Mon dernier article sur la Martinique a l'air de vous avoir plu et je suis ravie si j'ai pu vous communiquer mon amour pour mon  île et vous donner envie de venir :)
Pour continuer sur le thème Martinique voici un nouvel article un peu spéciale.
Peu de temps avant de partir en vacances, j'ai retrouvé une vieille photo de ma sœur et moi, âgées de 2 et 5 ans dans notre jardin martiniquais. Je me suis dit que ça pourrait être très drôle de refaire la même photo toutes les deux, au même endroit mais avec 25 ans d'écart… Ouch ! Putain 25 ans…
Au final on a regardé les vieux albums photos et on s'est amusé à refaire une dizaine de photos de la même façon. Il y a eu beaucoup, beaucoup de fous rire je peux vous le dire… C'est un de mes meilleurs moments des vacances.
J'ai beaucoup hésité à en faire un article pour mon blog, ayant un peu peur de franchir la limite de la pudeur. Ok la petite Lu est une grosse cochonne pas pudique pour un sous, mais on ne voyait jamais son vrai visage et un trait dessiné reste toujours plus léger qu'une authentique photo. Ici je vous dévoile mes vraies photos de mon enfance, mon vrai visage de petite fille, mon vrai visage de nouvelle trentenaire (oui j'ai fêté mes 30 ans là bas !!! non je ne me fais pas chier !!!), ma vraie maman et ma vraie Pipoune, ma petite sœur Sarah. Et puis quand on habite aussi loin les unes des autres alors qu'on est autant attachées les unes aux autres (Relations fusionnelles mère/filles Bonjour!), il faut immortaliser les retrouvailles.
Alors vous en dites quoi ? On n'a pas tant changé que ça :)
You seem to have enjoyed my last article about Martinique and I am glad if I manage to show you my love for my island and make you want to go :)
To go on with the theme of Martinique here is a new article but a little bit special.
Before leaving on vacation, I found an old photograph of my sister and I, aged 2 and 5 years in our garden in Martinique. I thought it would be very funny to do the same picture both in the same place but 25 years later… Oh f**k… 25 years !…
We ended up looking at the old photo albums and  had a lot of fun doing a few picture like this. I can tell you… It was one of my best holiday moments.
I really hesitated to make it as an article for my blog. I was afraid to cross the line of decency. Ok la ptite lu is not very ladylike, that is why we have never seen her real face and she only exist in a comic character form.  Today, I will show you the real photos of my childhood, my true little girl face, my true face of new thirty (yes I celebrated my 30 years in Martinique! Yes I fucking enjoy life!) my real mom and my real »pipoune », my younger sister. And then when we also live so far from each other while we love each other so much (Indeed fusional mother / daughters Relationship), We must capture the reunion.
So what do you think? We haven't changed that much :)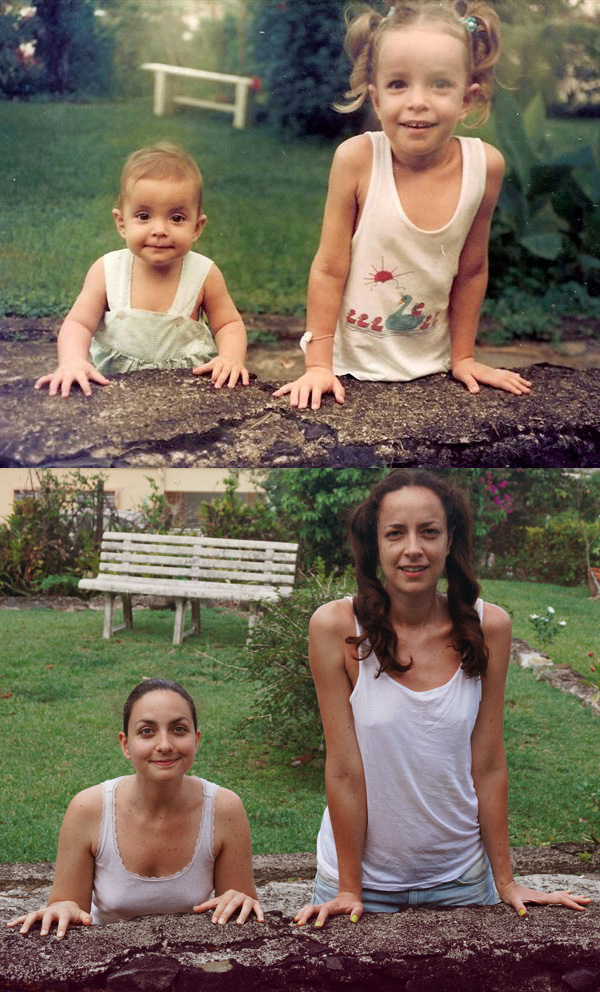 Sarah et moi dans le jardin
Sarah and I in the garden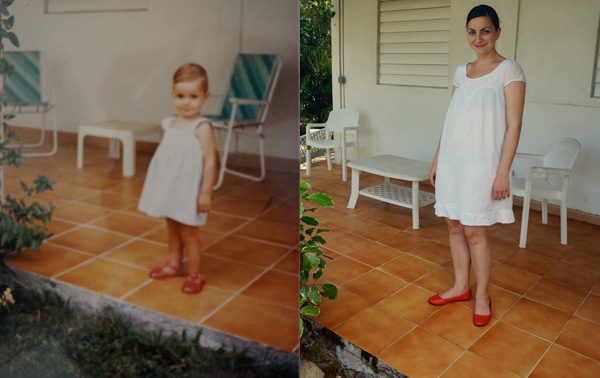 Sarah en robe blanche et chaussure rouge sur la terrasse
Sarah, white dress and red shoes on the terrace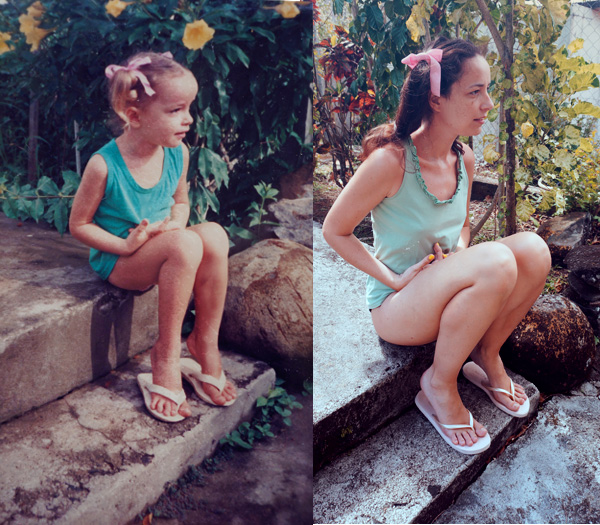 Moi assise dans les marches du jardin
I, sitting in the step in the garden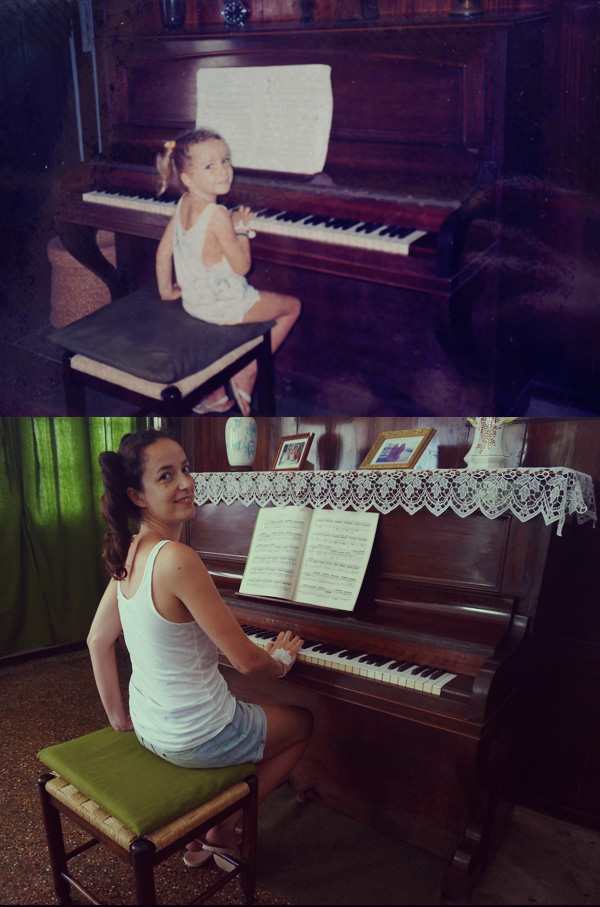 Moi, (prétendant) jouer du piano
I, (pretending) to play piano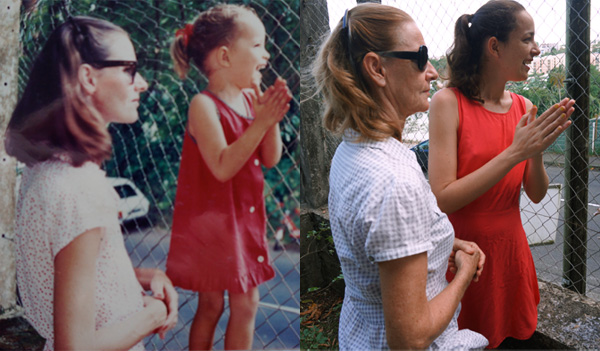 Maman et moi encourageant la course cycliste
Mum and I, encouraging the bike race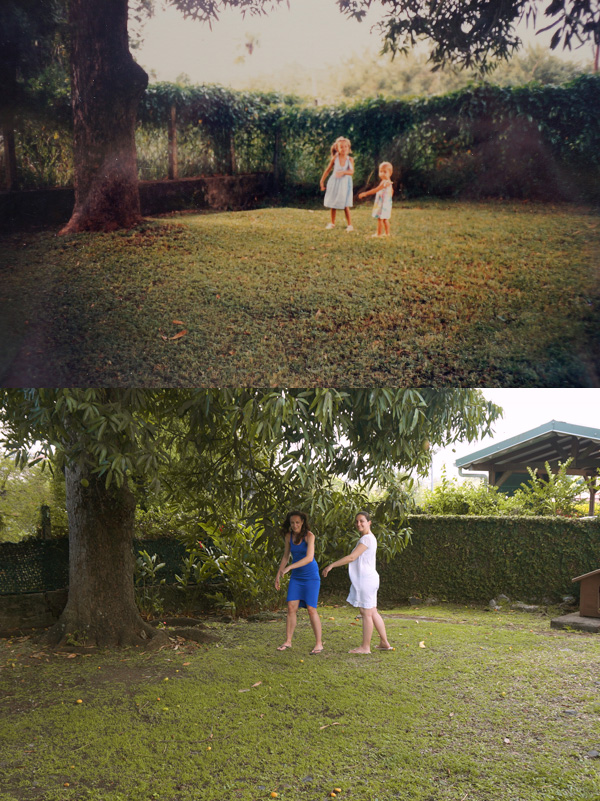 Sous le manguier
Under the mango tree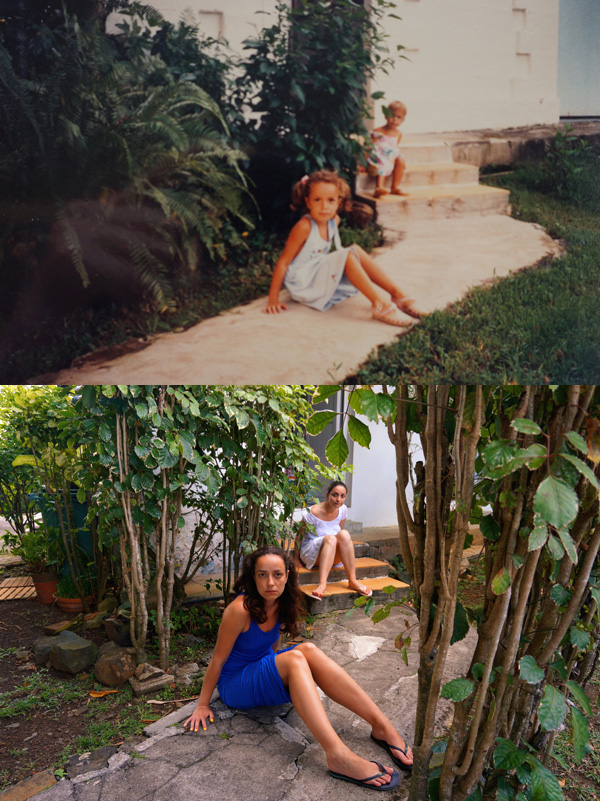 Devant la cuisine
In front of the kitchen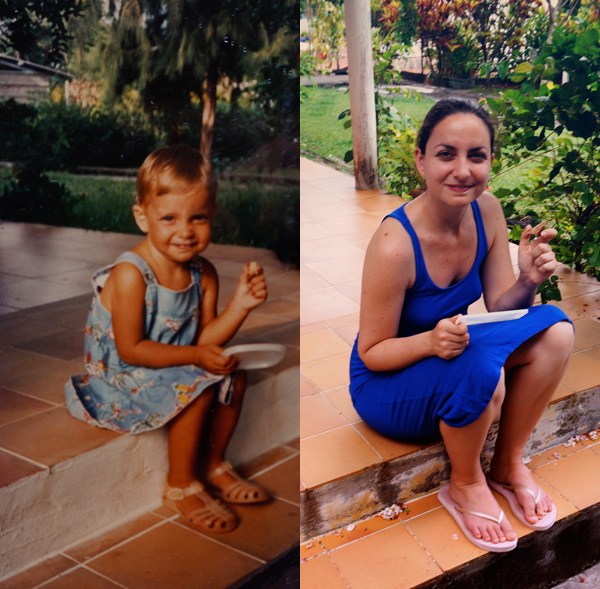 Sarah assise sur les marches de la terrasse
Sarah siting on the terrace step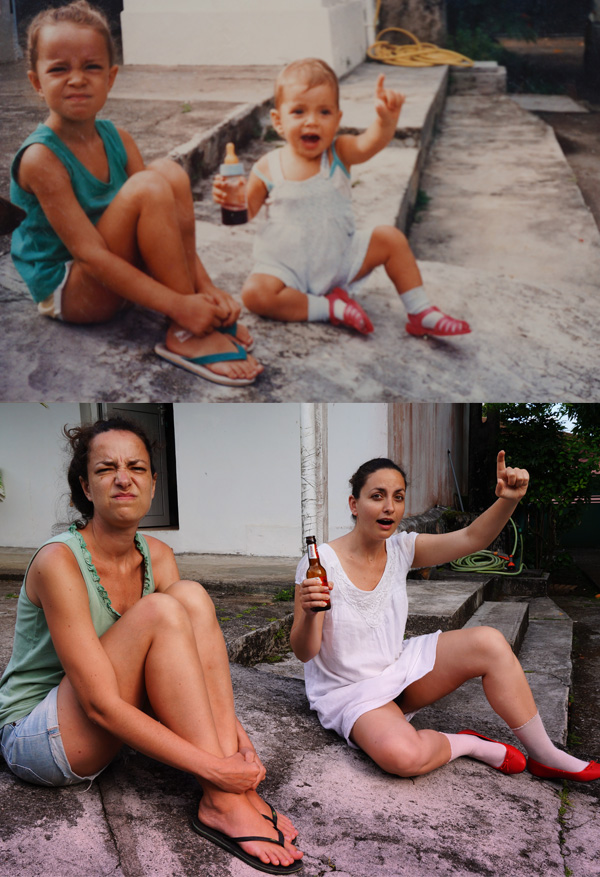 Assise sur l'allée en ciment. Sarah tient un biberon de jus de raisin. Dommage, on n'avait plus le biberon.
Sitting on the cement driveway. Sarah holds a bottle of grape juice. Too bad, we did not have the bottle anymore.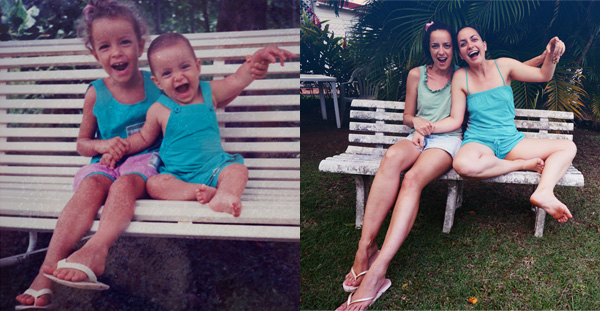 Sur le banc du jardin
On the bench in the garden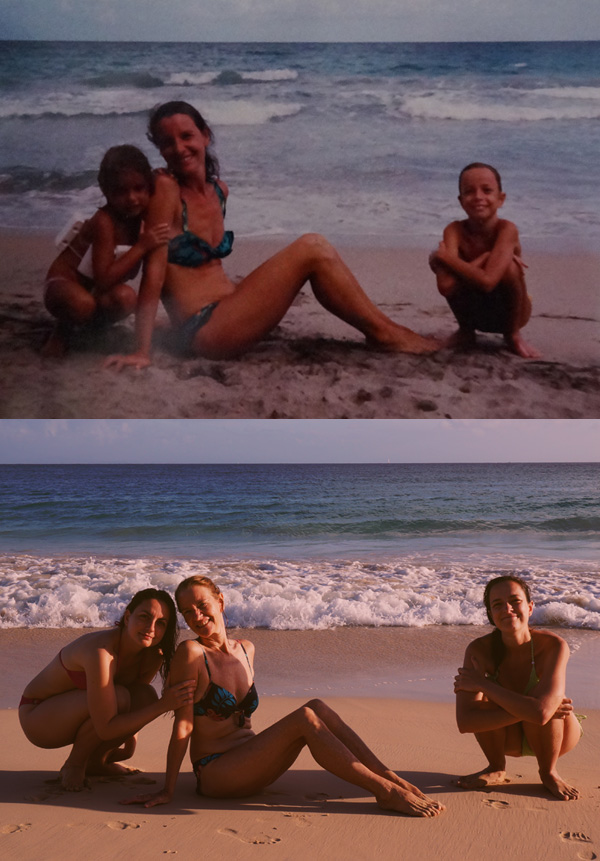 A la plage…
At the beach…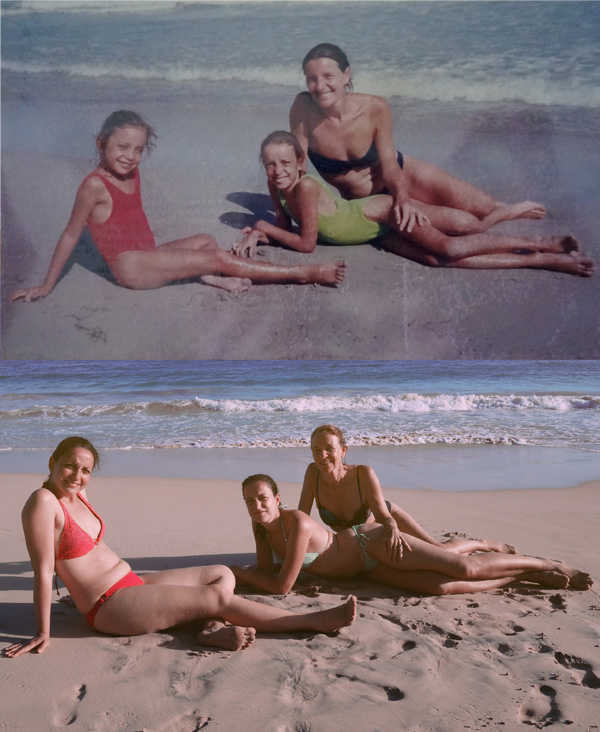 A la plage encore… On allait beaucoup a la plage…
At the beach again… we used to go to the beach quite often… 
Y a plus qu'a les refaire… dans 25 ans ! Bon ok, 3 vieilles peaux affalées sur la plage ça risque de rendre un peu différemment… mais bon, ça peut aussi être drôle :D
We can do it again… in the next 25 years! Indeed, 3 old ladies lying on the beach might not have the same effect… but it might be funny :)