Archive for the '– LA PTITE LU' Category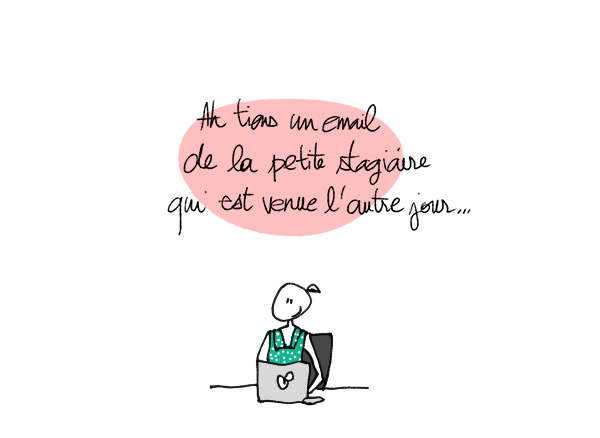 Oh, an email from the intern who came the other day…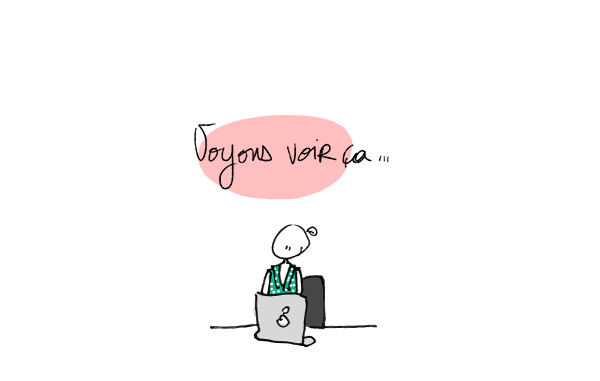 Let's see that…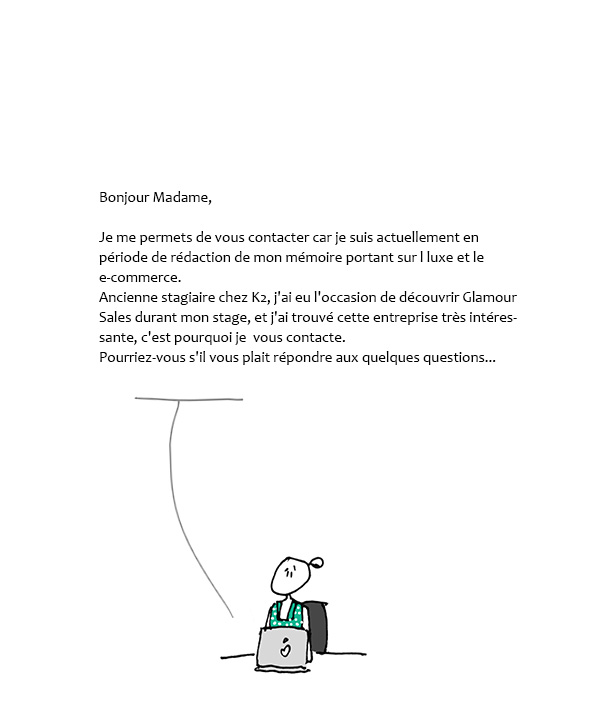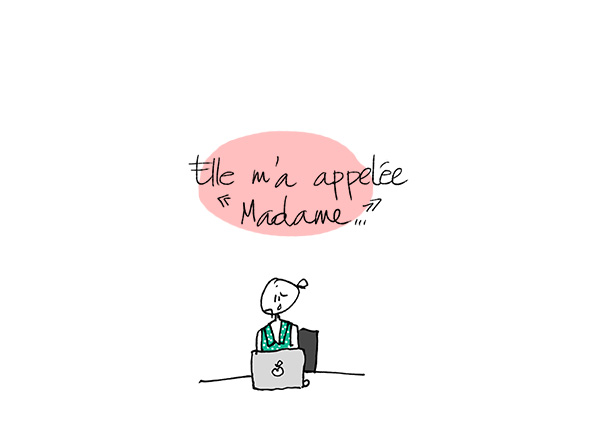 She call me »Madame ».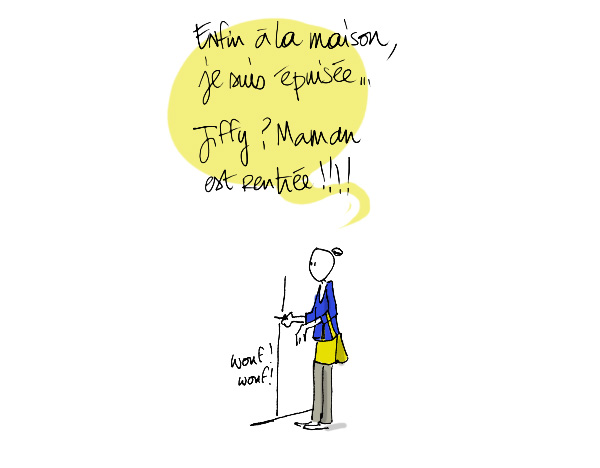 Finally at home.. I am exhausted…
Jiffy? Mom is back!!!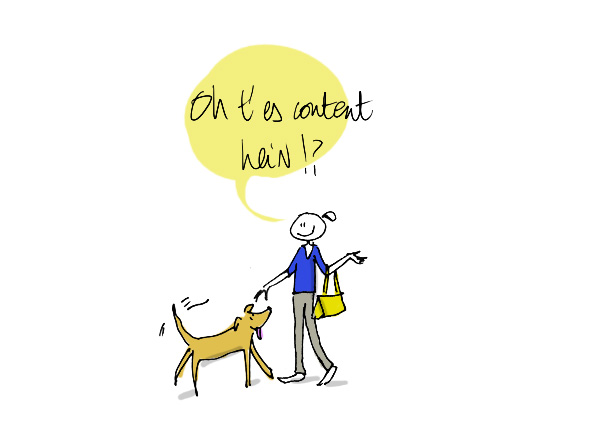 You are happy, huh?!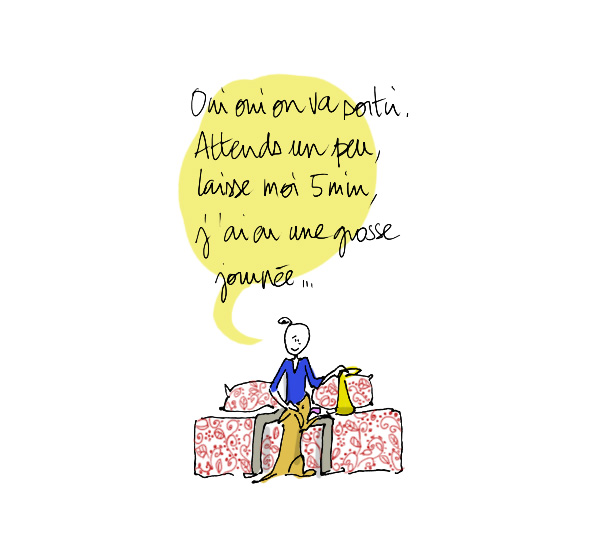 Yes, we 'll go for a walk. Give me 5 min, I had a tiring day…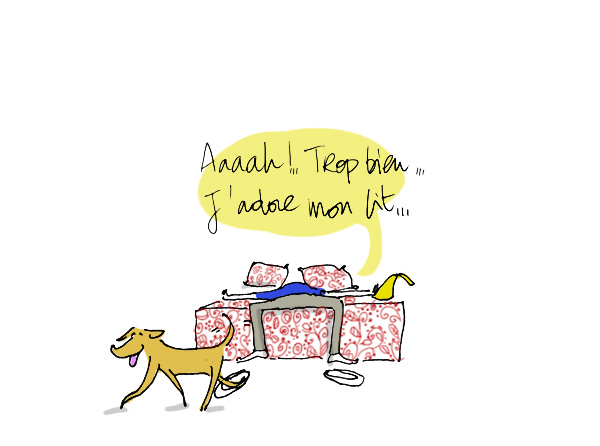 Aaaaah, So cool, I love my bed…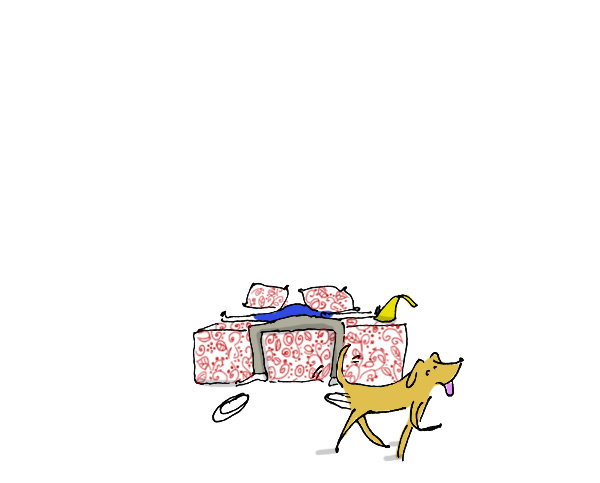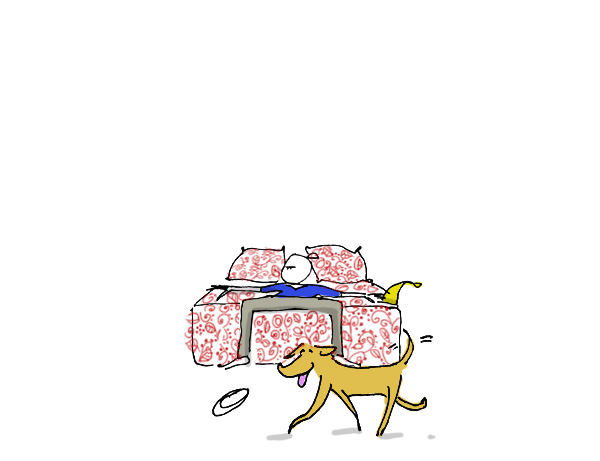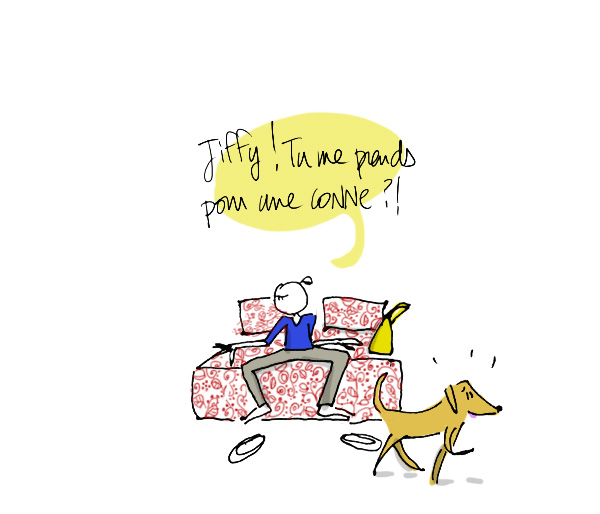 Jiffy! Do you think I am stupid?!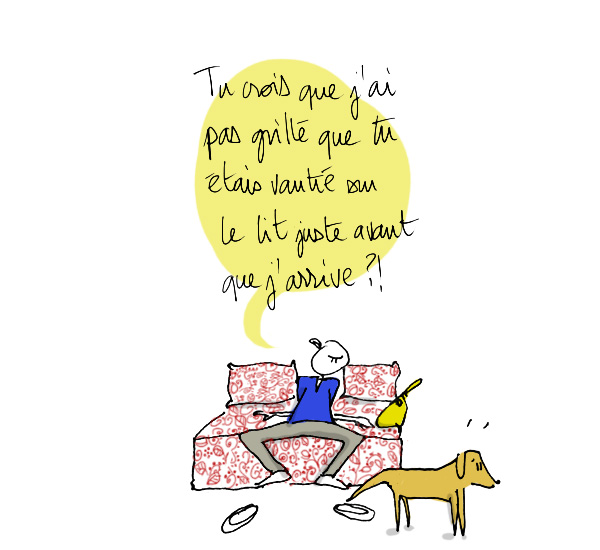 Don't you think I don't know that you have been on the bed just before I came?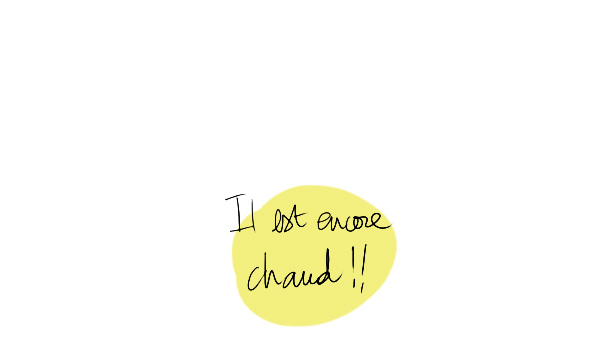 It is still warm!!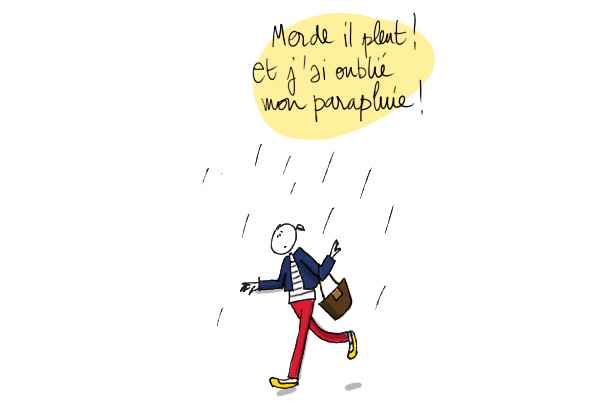 Shit! It's raining! And I forgot my umbrella!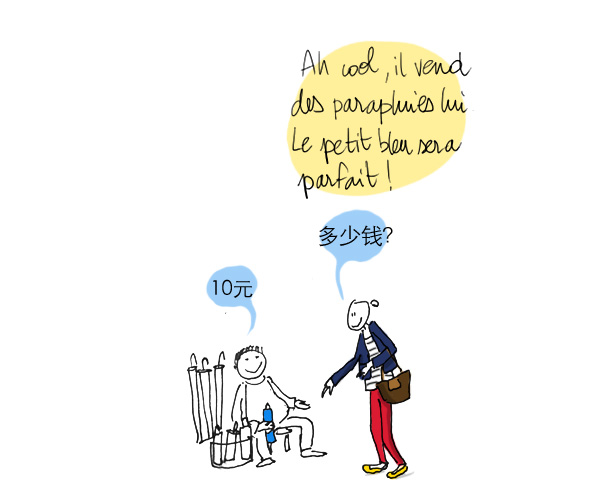 Great, this guy is selling umbrella! The blue one will be perfect!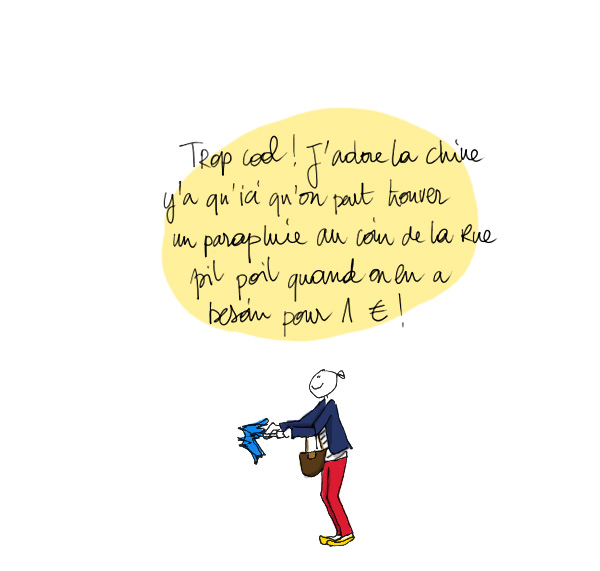 So cool! I love China, it is the only place you can find an umbrella so easily when it is raining, for only one euro!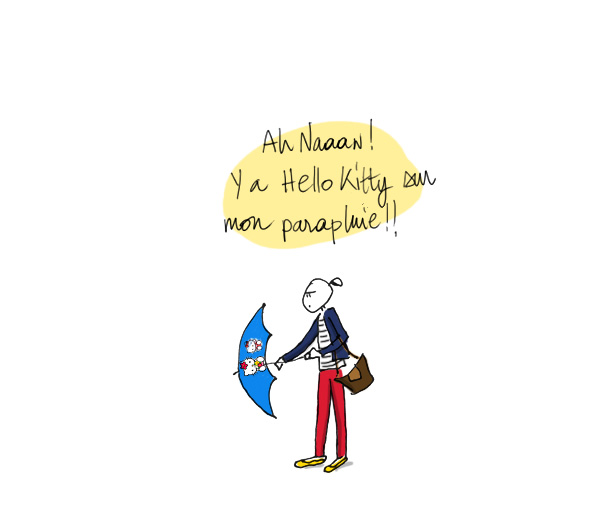 Noooo! There is Hello Kitty on my umbrella!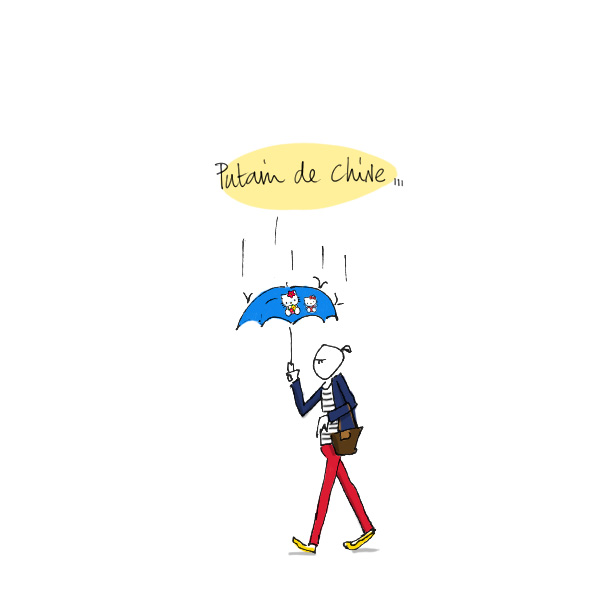 Fucking China…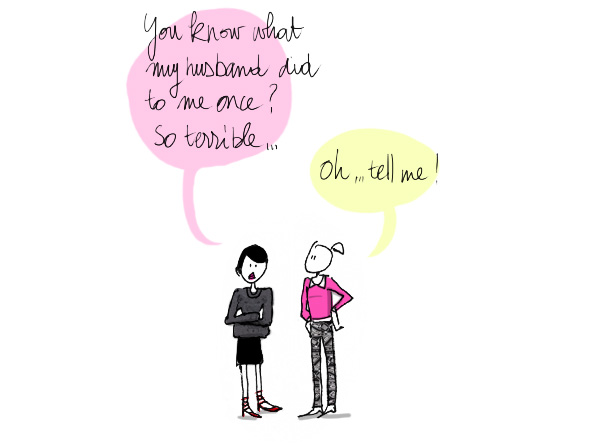 Vanessa : « Tu sais ce que mon mari m'a offert un jour ? Horrible… »
La Ptite Lu : « Oh ! Raconte ! «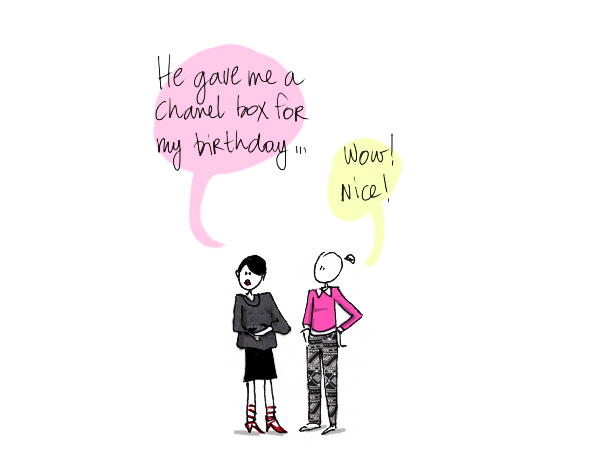 Vanessa : « Il m'a offert une boîte Chanel pour mon anniversaire… »
La Ptite Lu : « Wouahou ! Joli ! »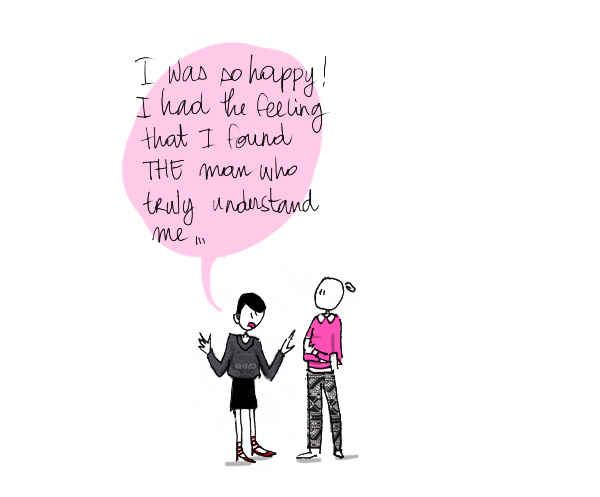 Vanessa : « J'étais tellement contente ! J'avais le sentiment d'avoir trouvé l'HOMME qui me comprenait parfaitement… »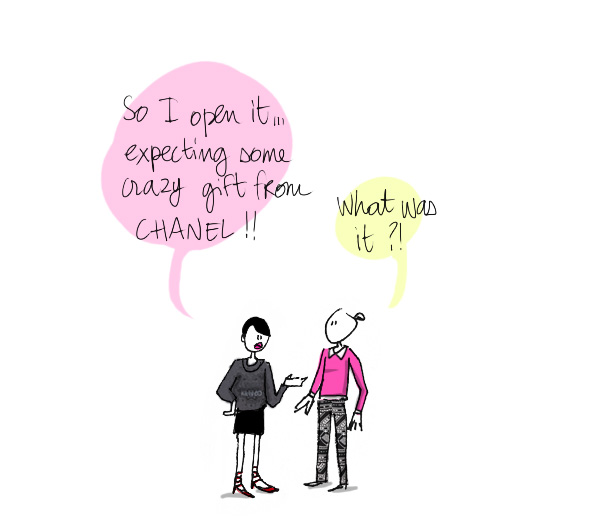 Vanessa : « Alors j'ouvre m'attendant à trouver un truc Chanel hors de prix ! »
La Ptite Lu : « C'était quoi ?? »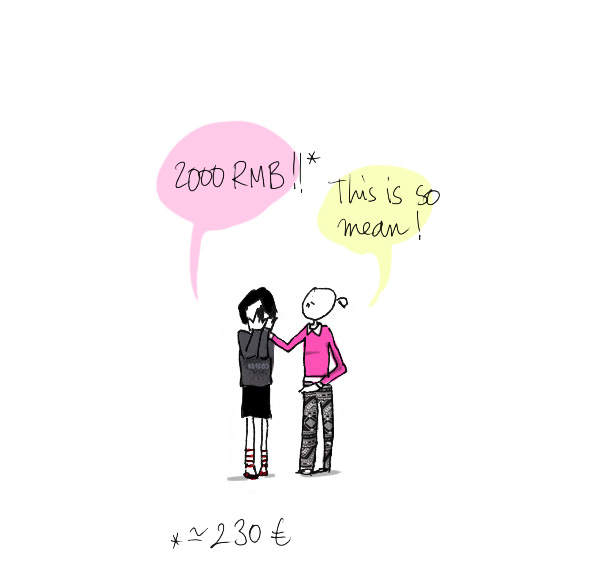 Vanessa : « 2000 RMB !! »
La Ptite Lu : « C'est méchant !!! »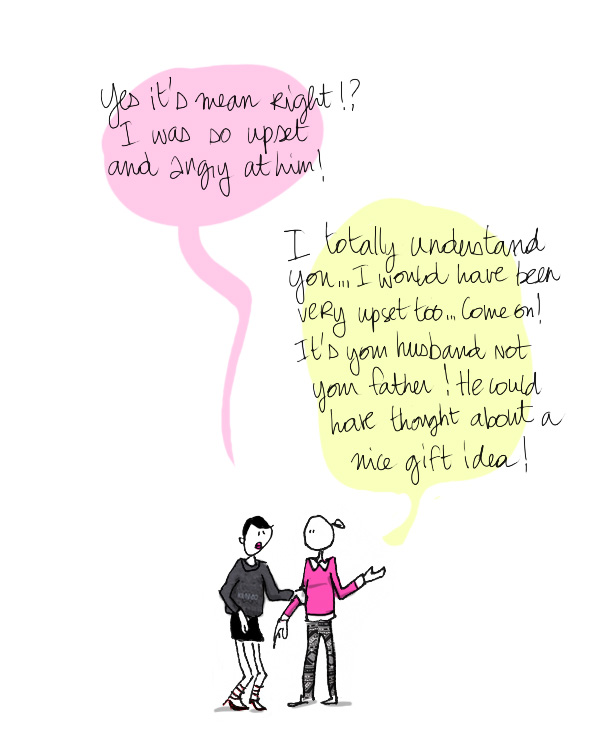 Vanessa : « Oui c'est méchant ! On est bien d'accord ! J'étais tellement vexée et en colère après lui ! »
La Ptite Lu : « Je te comprends très bien ! J'aurai été vexée aussi, ça va quoi c'est pas ton père c'est ton mari, il aurait pu faire un effort et avoir une idée de cadeaux ! »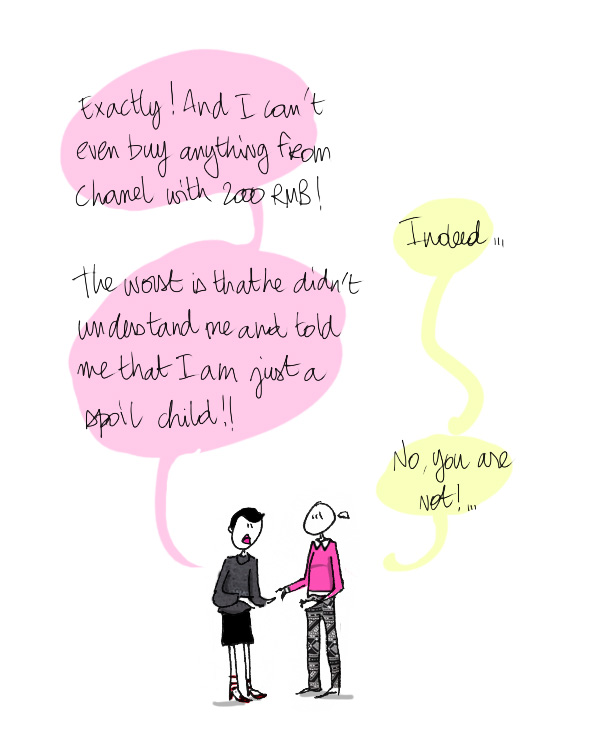 Vanessa : « Exactement ! Et puis je ne peux même pas m'acheter un truc Chanel avec 2000 RMB ! »
La Ptite Lu : « En effet… »
Vanessa : « Le pire c'est qu'il n'a pas compris ma réaction et m'a juste traitée d'enfant gâtée ! »
La Ptite Lu : « Non c'est pas vrai ! »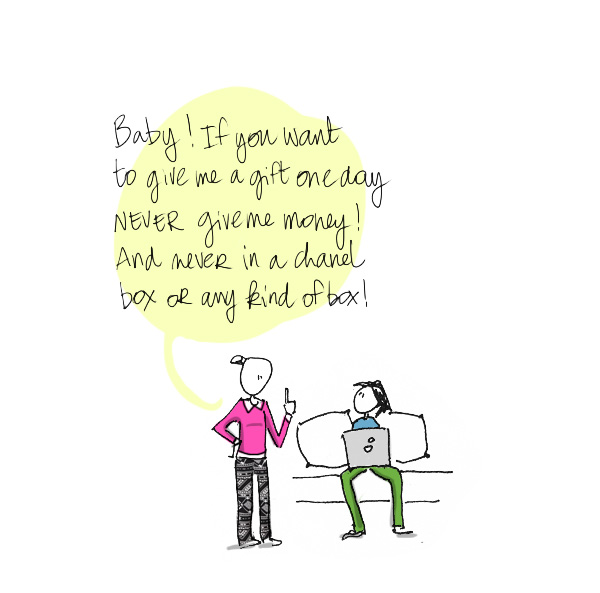 La Ptite Lu : « Bébé, si tu veux me faire un cadeau un jour, surtout ne m'offre pas d'argent et encore moins dans une boîte Chanel ou n'importe quelle genre de boîte ! »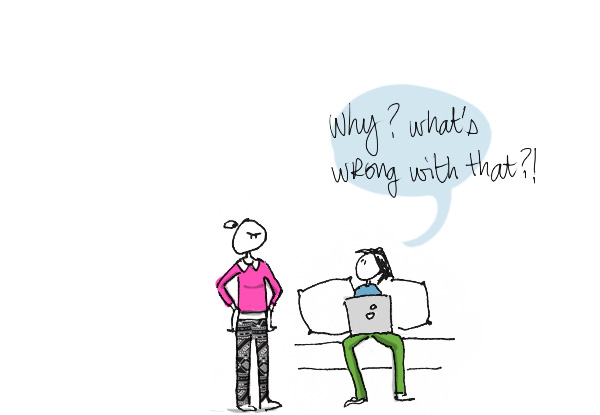 TH : « Pourquoi ? C'est quoi le problème d'offrir de l'argent ? »
Vanessa, c'est ma fashionista préférée : Le genre de meuf qui vit pour porter des fringues hors de prix, qui privilégie le style avant le confort, qui porte des escarpins Valentino un jour de pluie, juste parce que ça va bien avec sa tenue… Mais elle s'en fout, elle prend le taxi. Mon opposée ! Mais on arrive quand même à s'entendre très bien et à tomber d'accord sur plein de choses. Genre cette fameuse boîte Chanel. Et vous, que pensez vous de ces 2000 RMB en cadeaux ? Vous auriez été vexée aussi ?
Vanessa is my favorite fashionista. The kind of girl who lives to wear expensive clothes, who gives more importance to her style than her confort, who wears Valentino high heel on a rainy day, but she doesnt care, she takes cab… My opposite ! But we get along well and we agree on a lot of things… like this Chanel box. And you, what do you think about the 2000 RMB gift ? Would you have been upset too?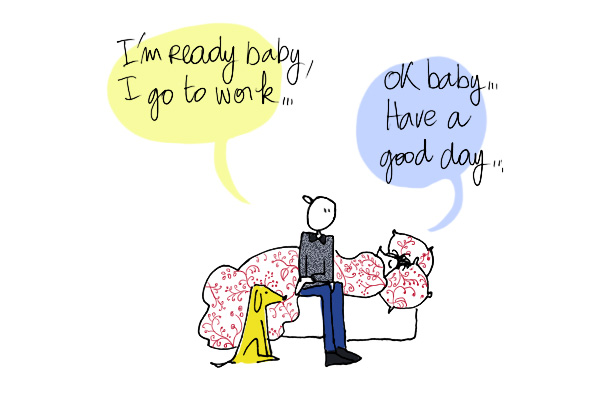 La Ptite Lu : Je suis prête bébé, j'y vais…
TH : Ok bébé, passe une bonne journée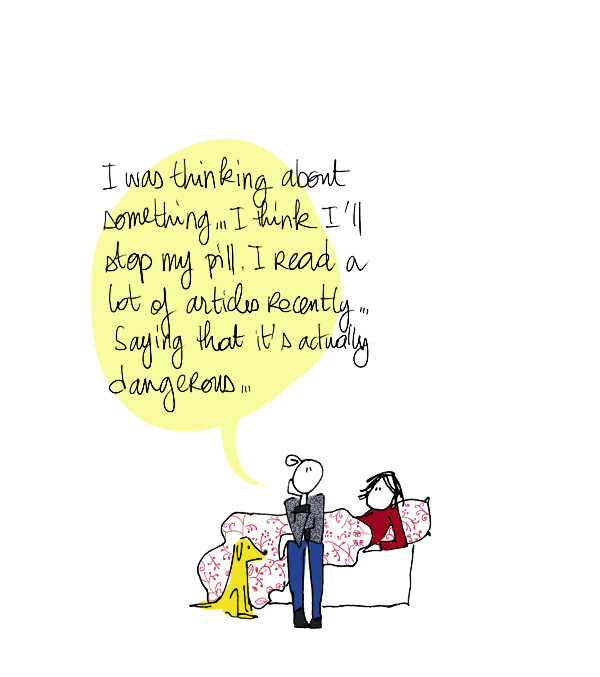 La Ptite Lu : Je pensais à quelques chose… Je pense à arrêter la pilule. J'ai lu un article qui dit que c'est dangeureux…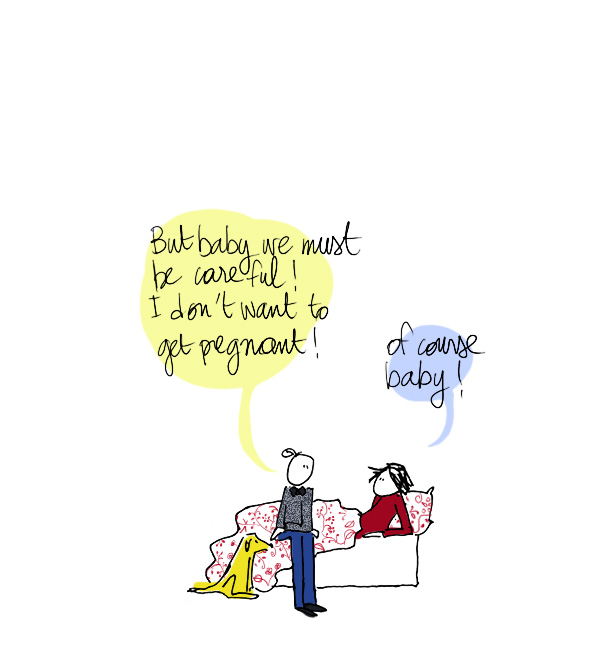 La Ptite Lu : Mais bon bébé, il faudra faire attention, j'ai pas envie de tomber enceinte…
TH : Bien sûr bébé !
TH : Je viendrai dans ta bouche..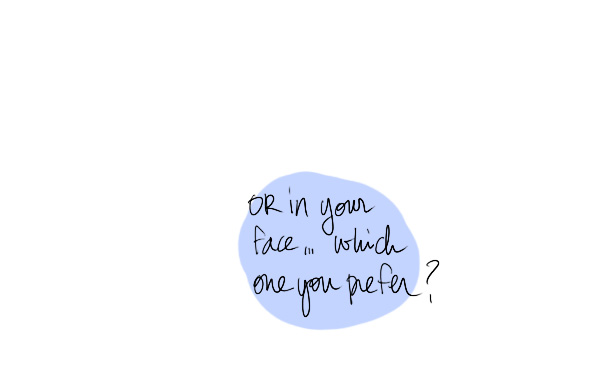 TH : ou en facial, comme tu préfères.
Et sinon plus sérieusement mesdames et mesdemoiselles, vous avez peut-être lu cet article sur les dangers de la pilule, quand même pas vraiment rassurant. Les cancers, AVC, thrombo-embolies… etc pourraient être provoqués par les pilules de 3e et 4e génération. Et moi qui prends ma petite pilule en tout confiance depuis… 10 ans !
Vous en pensez quoi ? Vous prenez la pilule ? Ça vous donne envie d'arrêter ? Dites moi tout :)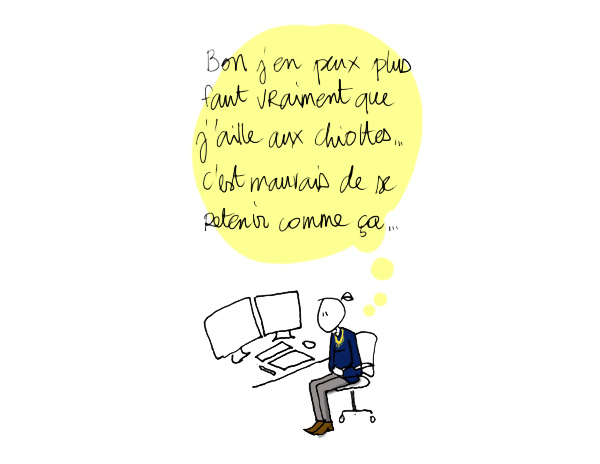 La Ptite Lu : I really need to go toilet… It is not good to hold too long…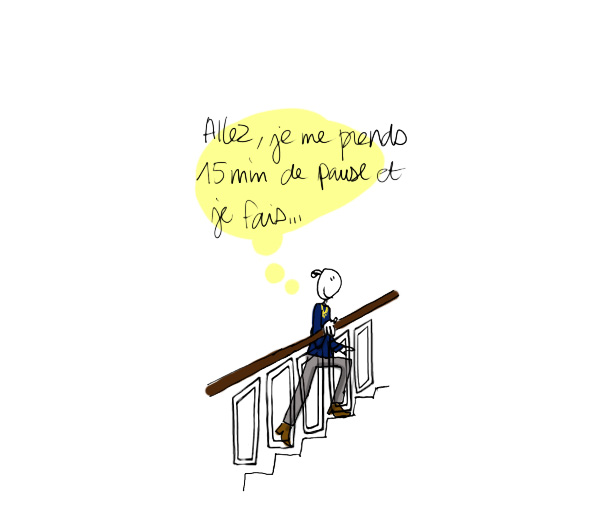 La Ptite Lu : Let's take a long 15 minutes break…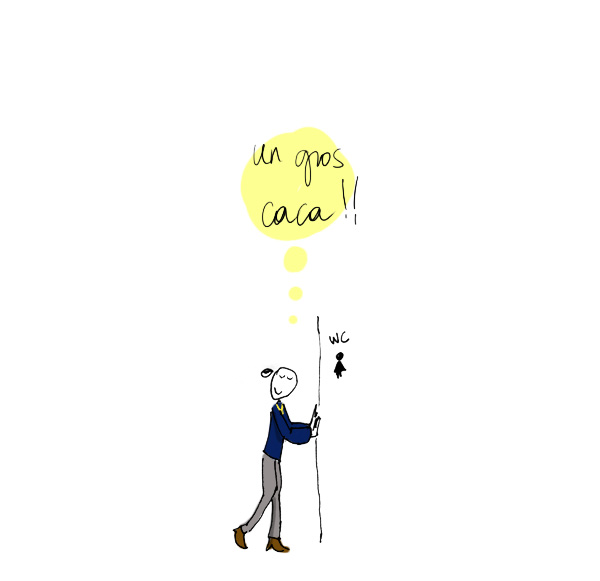 La Ptite Lu : to do a big poopoo!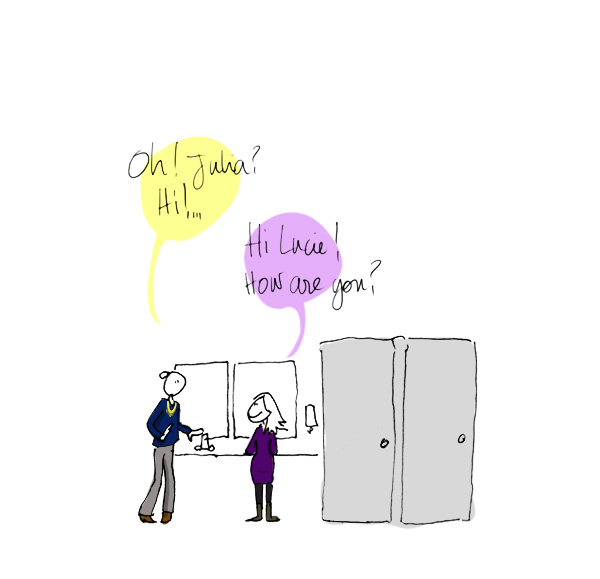 La Ptite Lu : Oh Julia ? Salut…
Julia : Salut Lucie, ça va ?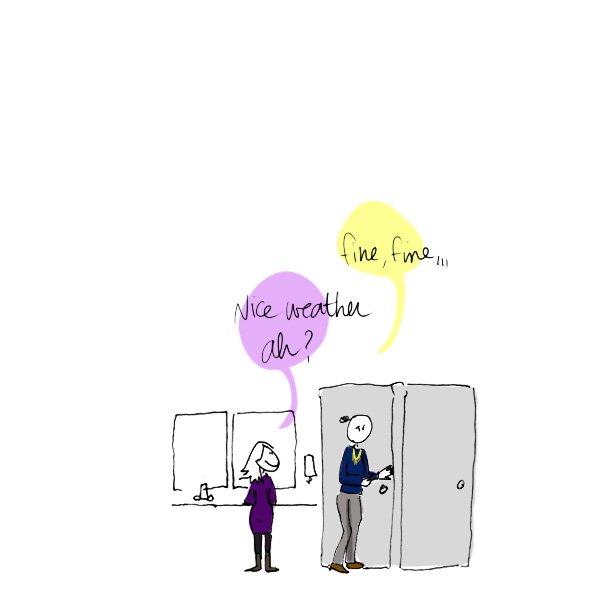 La Ptite Lu : ça va…
Julia : Il fait beau hein ?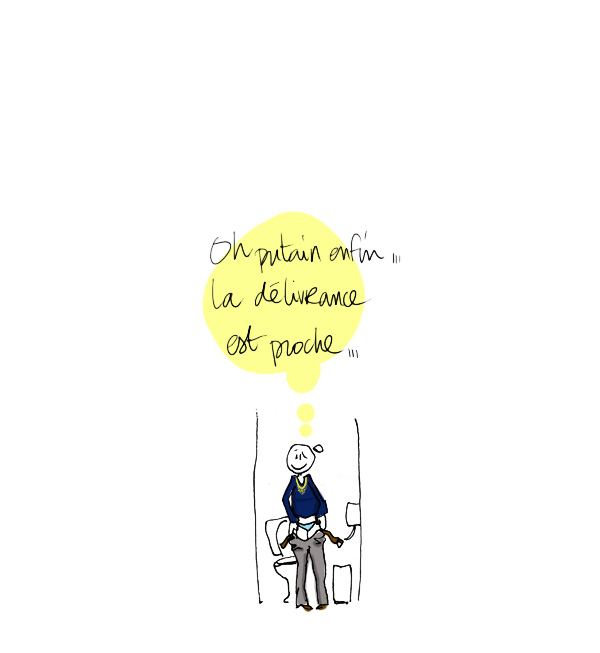 La Ptite Lu : Finally, I 'm near to freedom…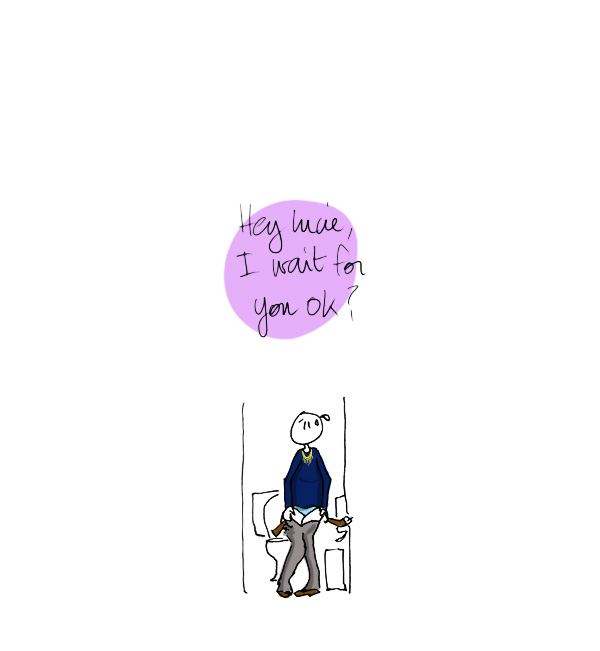 Julia : Lucie, je t'attends ok ?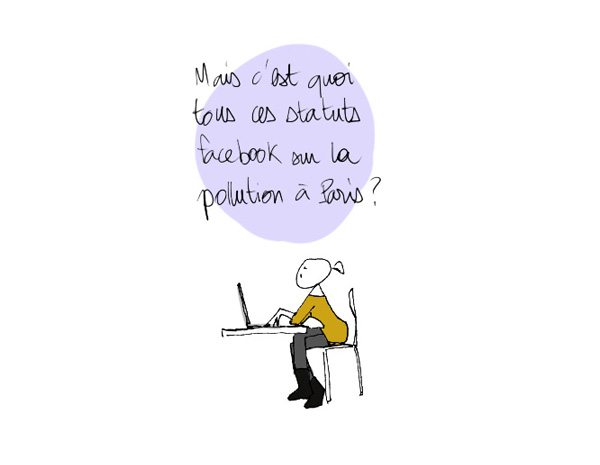 Why everybody on Facebook is talking about pollution in Paris?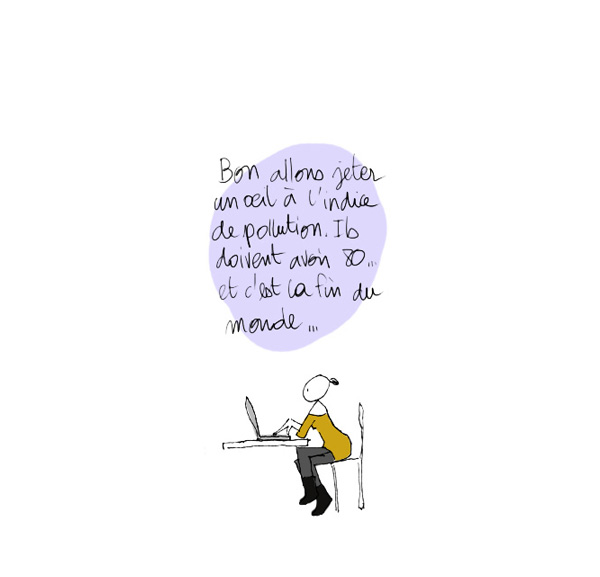 Let's have a look on the Air Quality. I am sure it is only 80…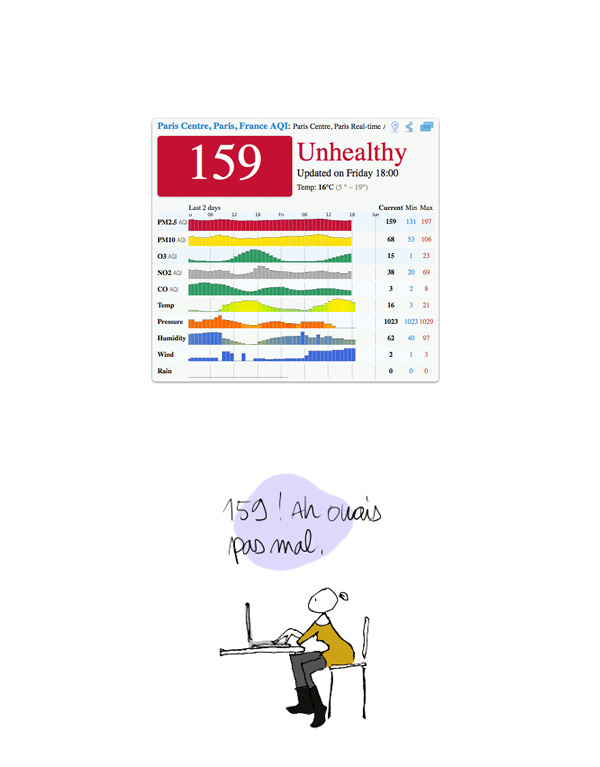 159, yes Indeed…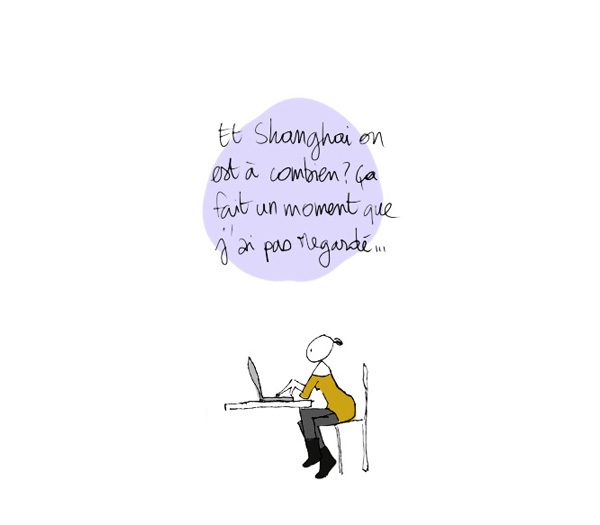 What about Shanghai? I haven't check for a while…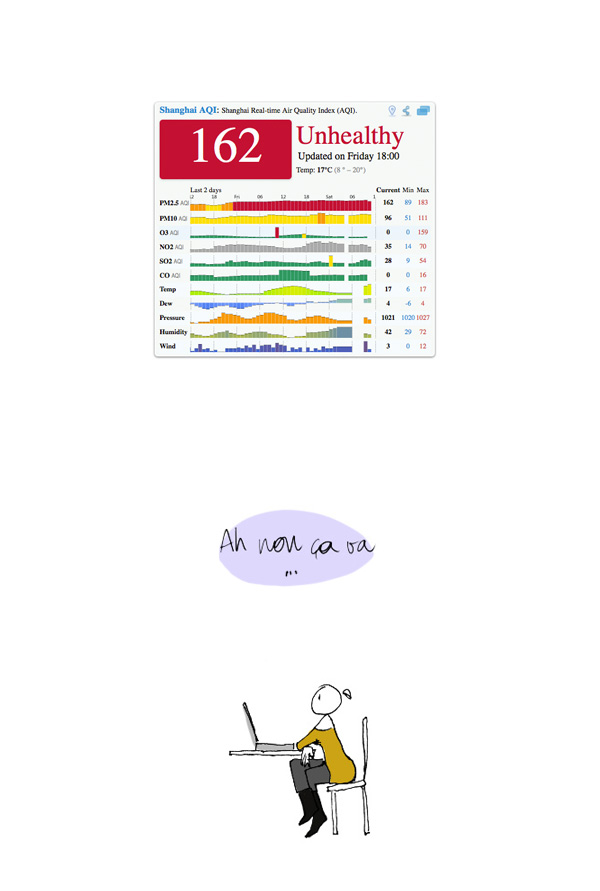 162? It is ok…
C'est vrai et c'est triste. Pour qu'on s'inquiète en Chine il faut qu'on dépasse l'indice 400… C'est là qu'on a eu droit a quelques consignes de sécurité du style »ne pas faire d'activité en extérieur, éviter de laisser les enfants et les personnes âgées dehors…. » Des choses basiques. Et on aurait pu rêver pour avoir les transports gratuits comme c'est le cas à Paris si j'ai bien suivi ? Le seul geste est venue de mon entreprise qui nous a donné un masque. Le genre de masque qu'il faut changer toutes les semaines.
J'essayais déjà d'être écolo a paris… Je triais, j'évitais les emballages, le gaspillage… Depuis que je vis en Chine je fais encore plus attention. Vivre dans un air pareil vous fait bien réfléchir et changer vos habitudes.
La pollution ne vient pas toute seule, c'est aussi à nous de prendre soin de notre petite planète. Les emballages, le plastique, le gaspillage… tout ça tout ça… Des minis gestes qui peuvent compter mis bout a bout.
Bonne semaine à tous en espérant que ce nuage dégueux sera vite évaporé ! A Shanghai il fait 190 aujourd'hui et on a l'impression qu'il fait beau…
Et vous ? Vous êtes écolo ou pas du tout ? La pollution vous vivez ça comment ?
Promis la prochaine Ptite Lu sera plus marrante :)
This is true and it's sad. To get worry in China we need the index exceeds 400… At this time we had some precaution like : » Don't do any outdoor activity , avoid keeping children and the elderly outside …. »  The basic things. And we would have dreamed to have free transportation as is the case in Paris if I got it correctly ? The only gesture came from my company which gave us one mask. The kind of mask should be changed weekly.
I was already very careful when I was living in paris… I tried to recycle, I avoided packaging waste…  Since I live in China I am even more careful. Living in such bad air makes you think twice and change your habits.
Pollution does not come alone, it is also up to us to take care of our planet. Packaging, plastic waste… A lot of small gesture can become a big help. 
Have a good week and hopefully that disgusting cloud will soon evaporated ! In Shanghai it is 190 today and it seems it's nice…
What about you? Are you green or not at all? How do you feel about pollution?
I promise that the next Ptite Lu will be more fun : )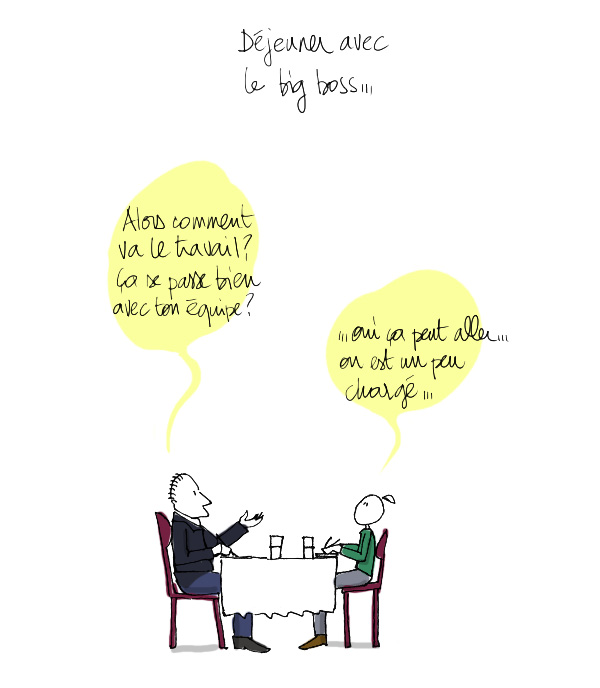 Boss : « So, how is work? How is it going with your team? »
La ptite Lu : « It is ok, a lot of work… »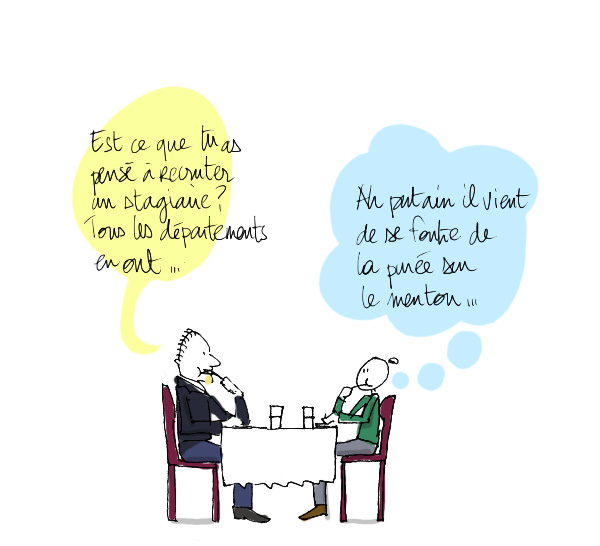 Boss : « Did you think about hiring an intern? »
La ptite lu (thinking) : Oh shit.. he just put mashed potatoe on his chin…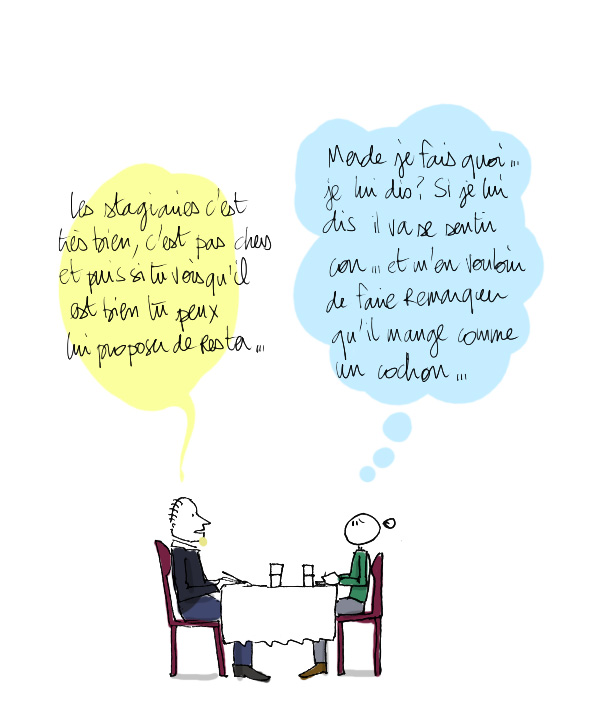 Boss : « Intern is a very good solution. It is cheap and if he works well you can propose him to stay… »
La ptite Lu  (thinking) : Fuck, what should I do? If I tell him, he will feel stupid… and he won't be happy that I show that he eats like a pig…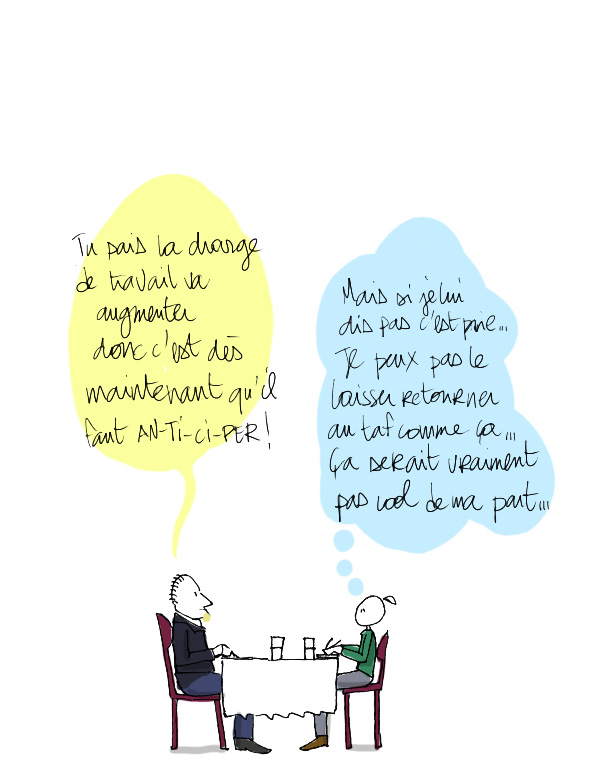 Boss : « You know, the workload will increase so you shall anticipate now… »
La ptite Lu (thinking) : But if I don't tell him it is worst… I can not let him go back to work like that…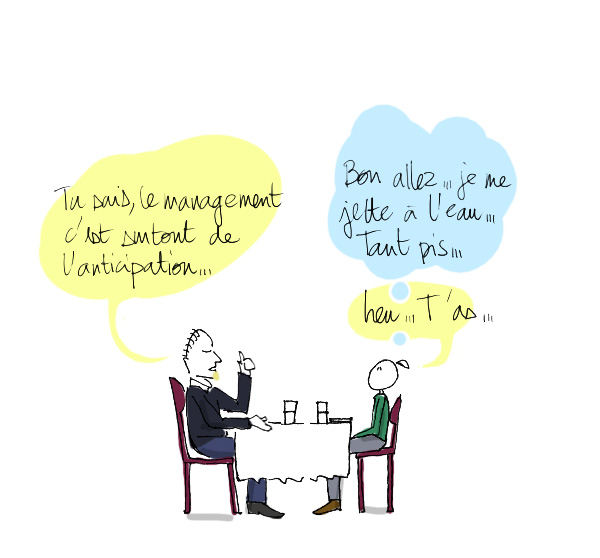 Boss : « You know, management is all about anticipation… »
La ptite Lu (still thinking) : Ok, I tell him, whatever… Talking : « mmm you … »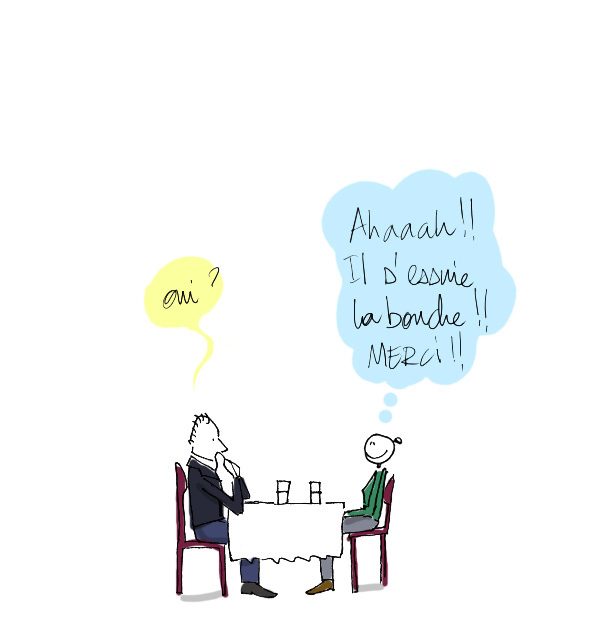 Boss : » Yes? »
La ptite Lu (thinking again) : Oh yeah!!! He wipes his mouth !!!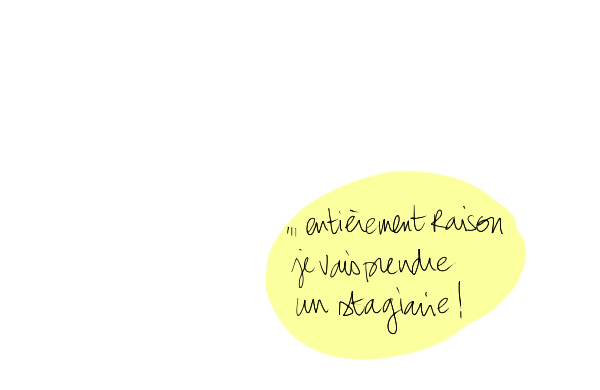 La ptite Lu (talking) : » …are right ! I'm gonna hire an intern! «