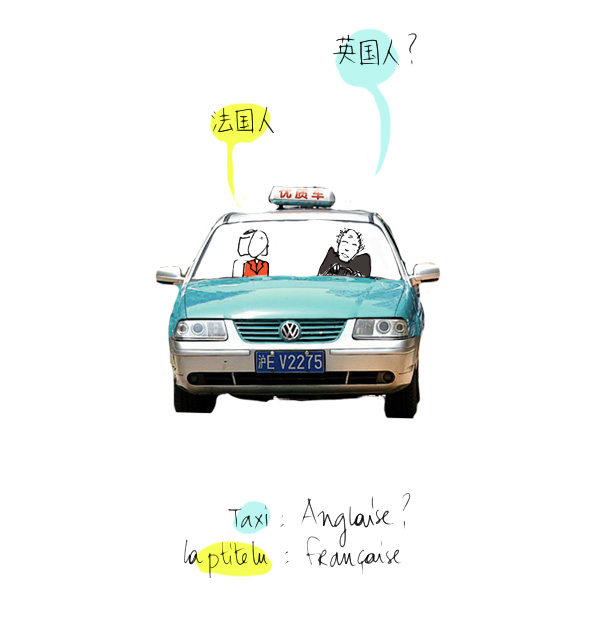 Taxi driver : English ?
La ptite Lu : French
Taxi driver : Do you like chinese food ?
La ptite Lu : Yes, I do
Taxi driver : How long have you been in Shanghai ?
La ptite Lu : 3 years
Taxi driver : For work ?
La ptite Lu : Yes
Taxi driver : How much do you earn ?
La ptite Lu (thinking in french) : This guy is so rude !
Taxi driver (keep asking about salary) : Money ? Per month ?
La ptite Lu : I don't understand…
Il a vraiment dû me prendre pour une conne ce petit Shifu (Chauffeur de taxi)… Il a fini par sortir une liasse de billet de 100 kuais qu'il agitait en répétant : Par mois ?? Combien d'argent ???
Et moi je continuais de feindre de ne rien piger… Ouais, j'avais pas trop envie de lui détailler ma fortune d'expat. Stupide pudeur française, on ne se refait pas.
Quand j'en ai parlé à chéri chéri, il a dit : « Ouais mais c'est normal, les vieux chinois font ça tout le temps. C'est pas du tout un problème pour eux de parler de ça. Surtout quand t'es étranger. Ils aiment bien savoir. »
Ah… un peu trop curieux les vieux chinois. C'est là que la technique du wo ting bu dong 我听不懂 (je ne comprends pas) reste crédible et utile :D
I guess he was thinking that I am stupid… at the end he even show me a stack of RMB notes and asked : Money ?? Per month ?? And I still pretended that I don't get anything… I didn't really want to show off. Maybe it is a french useless bashfulness but it's the way I am.
After that I asked to my boyfriend and he told me : » This is totally normal, old Chinese people do that all the time. There is no matter to talk about that for them. They like to know, especially if you are a foreigner. »
Very nosy these old Chinese people… huh ?