Archive for the '– LA PTITE LU' Category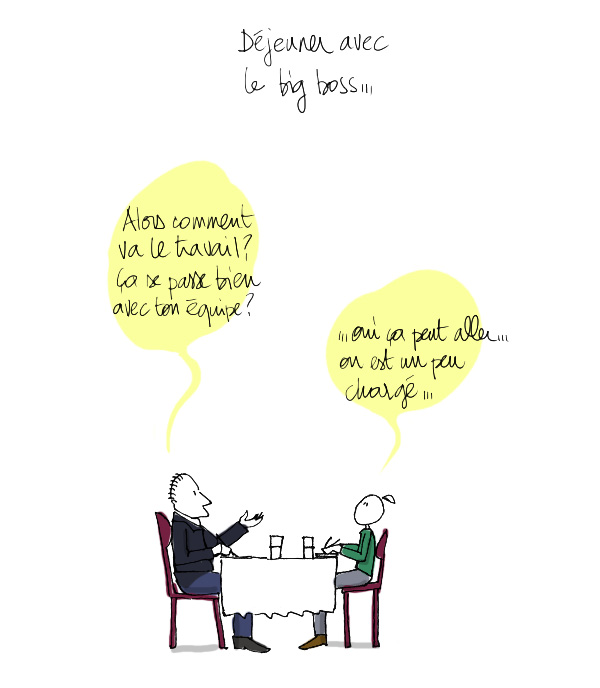 Boss : « So, how is work? How is it going with your team? »
La ptite Lu : « It is ok, a lot of work… »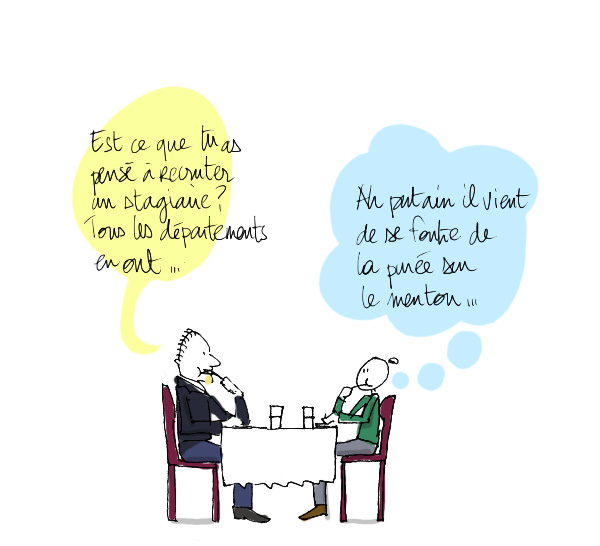 Boss : « Did you think about hiring an intern? »
La ptite lu (thinking) : Oh shit.. he just put mashed potatoe on his chin…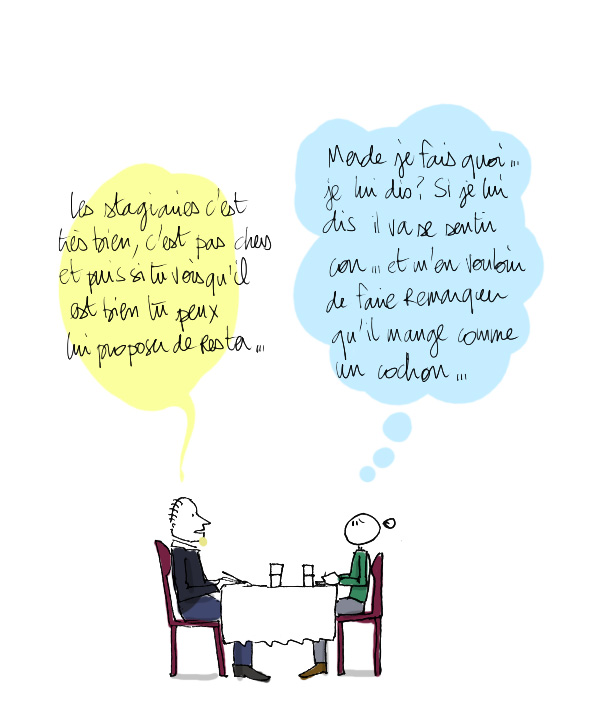 Boss : « Intern is a very good solution. It is cheap and if he works well you can propose him to stay… »
La ptite Lu  (thinking) : Fuck, what should I do? If I tell him, he will feel stupid… and he won't be happy that I show that he eats like a pig…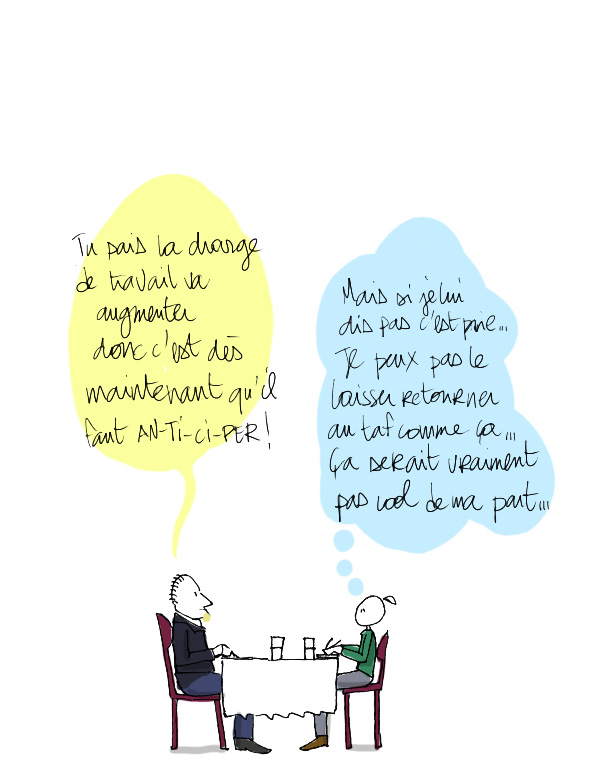 Boss : « You know, the workload will increase so you shall anticipate now… »
La ptite Lu (thinking) : But if I don't tell him it is worst… I can not let him go back to work like that…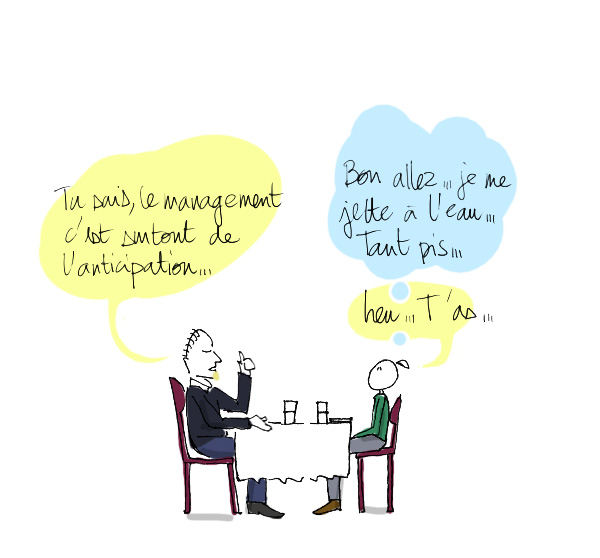 Boss : « You know, management is all about anticipation… »
La ptite Lu (still thinking) : Ok, I tell him, whatever… Talking : « mmm you … »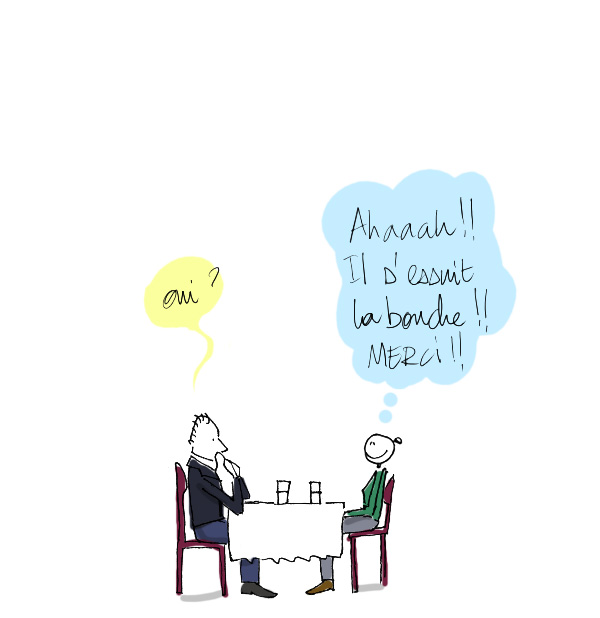 Boss : » Yes? »
La ptite Lu (thinking again) : Oh yeah!!! He wipes his mouth !!!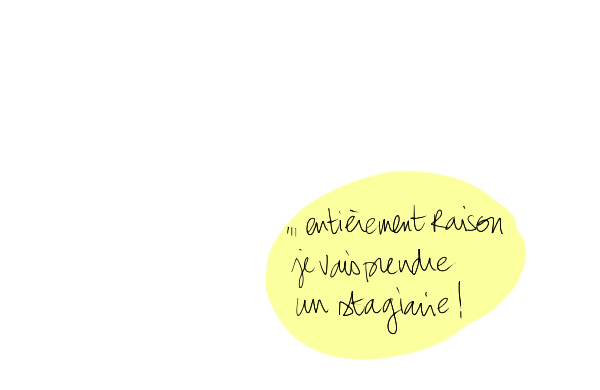 La ptite Lu (talking) : » …are right ! I'm gonna hire an intern! «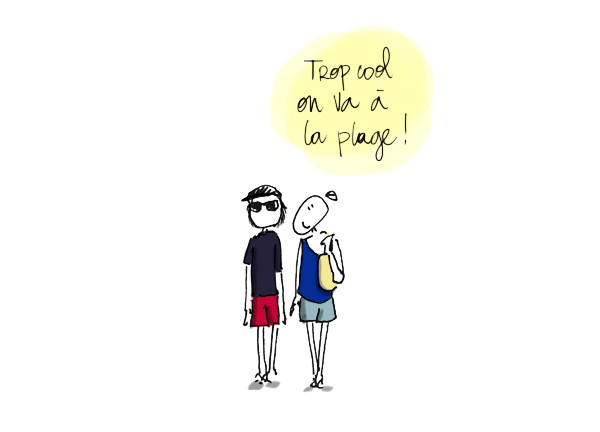 La ptite Lu : So cool, we are going to the beach!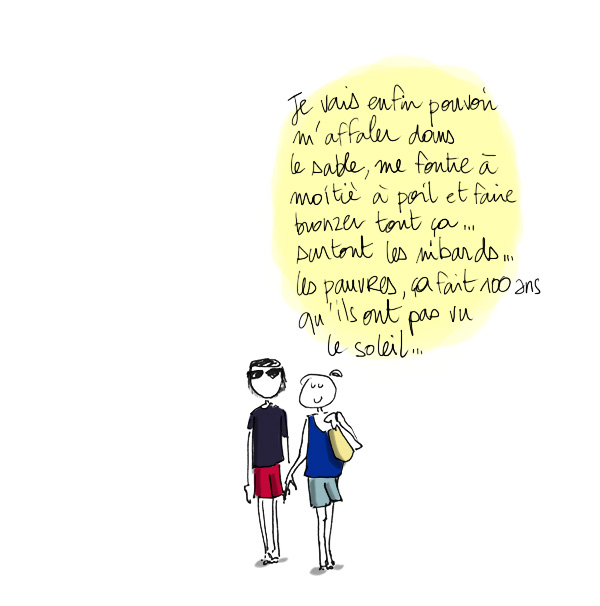 La ptite Lu : I can finally lie down on the sand, be half naked to get some tan! Especially on my boobs. They haven't seen the sun for too long…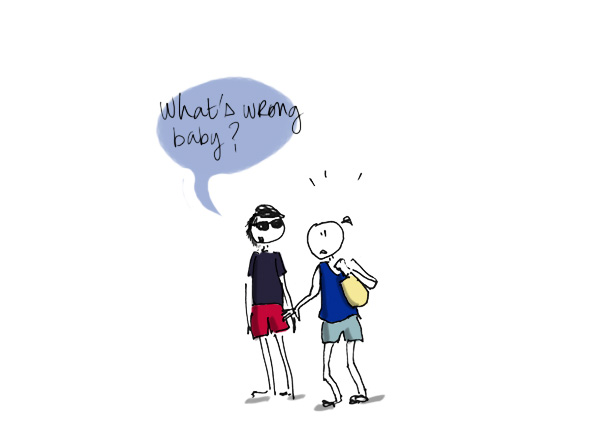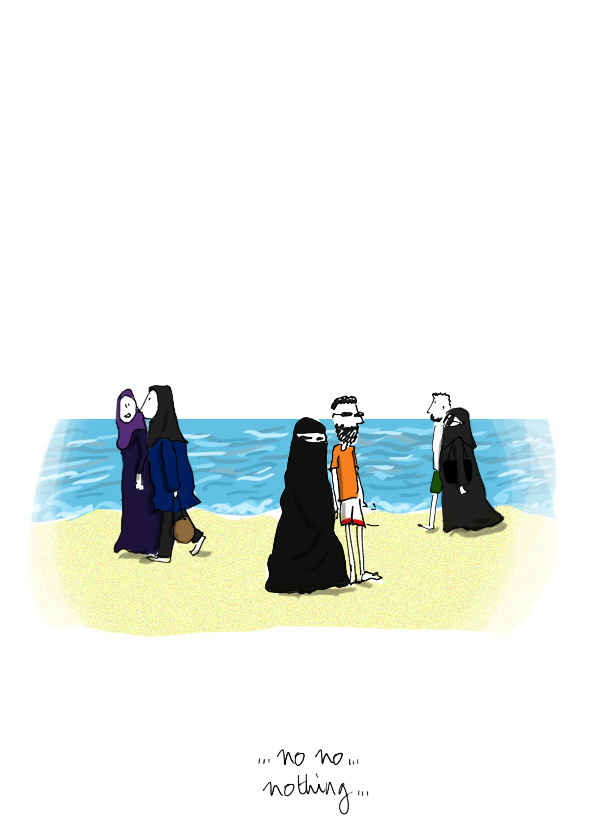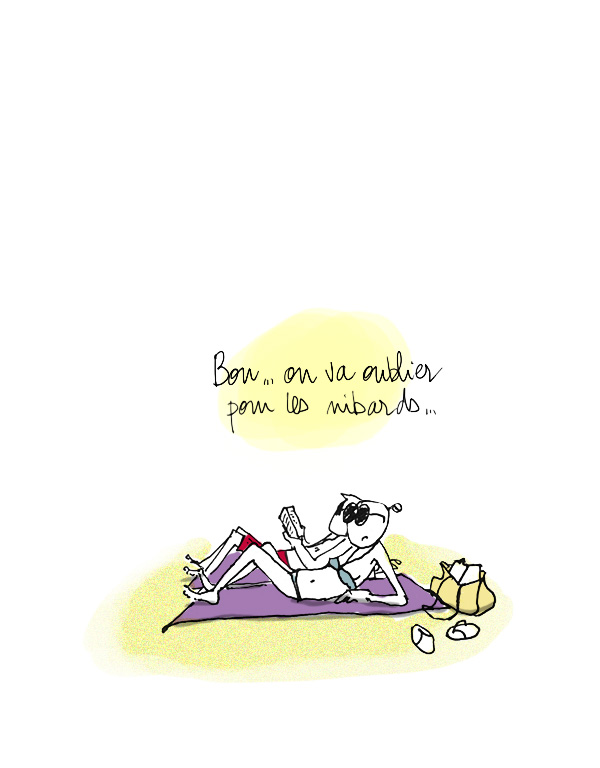 La ptite Lu : OK, forget about the boobs…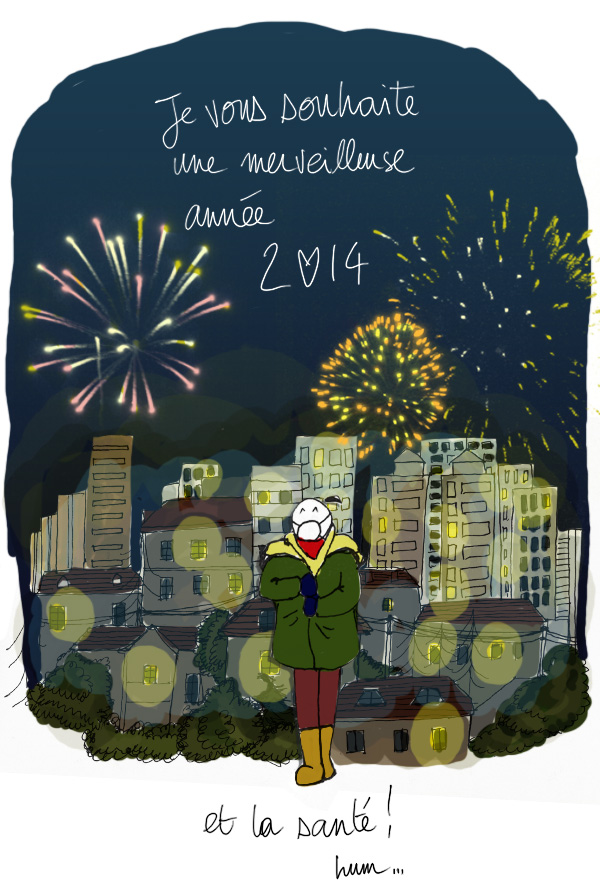 Après cette trop longue absence, je refais surface pour vous souhaiter mes meilleurs vœux et une très bonne année 2014 ! Beaucoup beaucoup de bonheur, de l'amour, du succès, une santé de fer et tout ce qui vous tient à cœur.
Pour tenter un peu de rattraper mon silence de ces derniers temps, voici un petit résumé en image des fêtes de fin d'année à Shanghai. Cette fois, pas de voyage en Allemagne, ni de retour en France, pas de réunion de famille ni de retrouvailles émouvantes et même si c'était un peu dur d'être loin d'elles, on a fait en sorte de passer de belles fêtes avec un Noël entre amis à la maison. Le saumon fumé, les toasts et le champagne étaient de la partie et même les cadeaux !
After this long absence, I come back to wish you the best and a Happy New Year 2014! Happiness, love, success, a very good health and everything you wish.
To catch this long time no see, here's a little summary with some pictures of this greeting season in Shanghai. This time, no trip to Germany or back in France, no family gathering and even though it was a bit hard to be away from them, it was nice to spend Christmas with friends at home. Smoked salmon and champagne were there too and even gifts!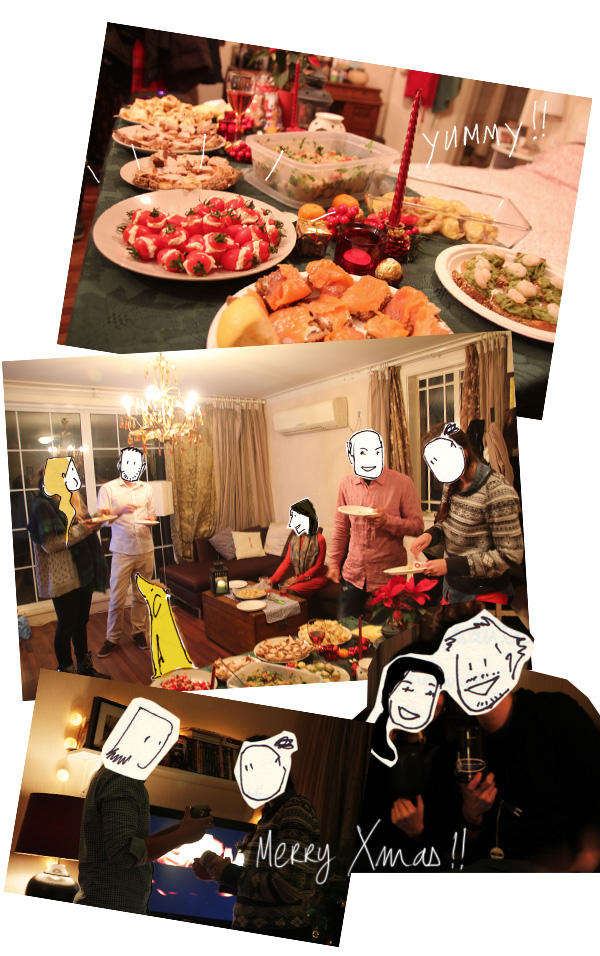 Et un nouvel an en amoureux… dans un délicieux restaurant japonais !!! Ouais ça va, je sais, on est des gros tarés de sushis mais on n'avait pas envie de se mélanger à une foule de mecs bourrés en boîte alors on a fait simple et on a misé sur une valeur sûre. C'était évidemment excellent et on a fini avec des fraises et du champagne à la maison pour attendre de passer à 2014. C'était parfait : )
And a romantic new year eve … in a delicious Japanese restaurant! Yeah okay, I know, we are totally crazy about sushis but we did not want to get lost with a bench of drunk people in a night club so we went to simple and safe option. It was great and we ended with strawberries and champagne at home waiting to go to 2014. It was perfect:)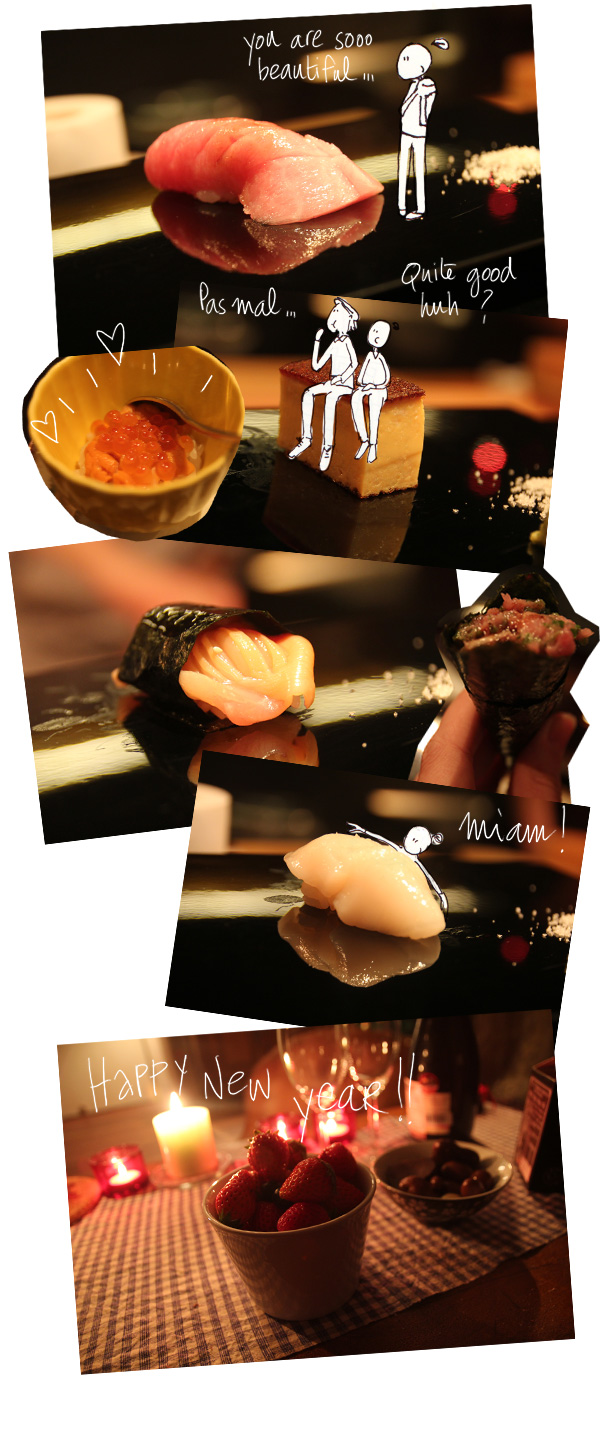 J'espère que vous avez aussi passé de belles fêtes en famille, entre amis où que vous soyez et que 2014 sera une belle année pour vous tous !

I hope you had wonderful greeting season with family or friends whatever you were in the world and I hope 2014 will be a beautiful year for all or you!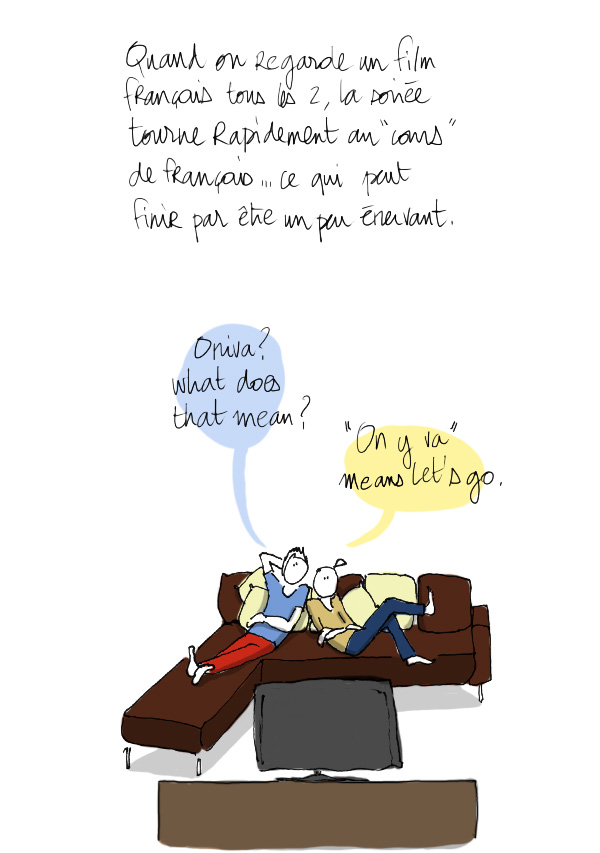 TH : Oniva ? Ça veut dire quoi ?
La Ptite Lu : « On y va ». Ça veut dire let's go.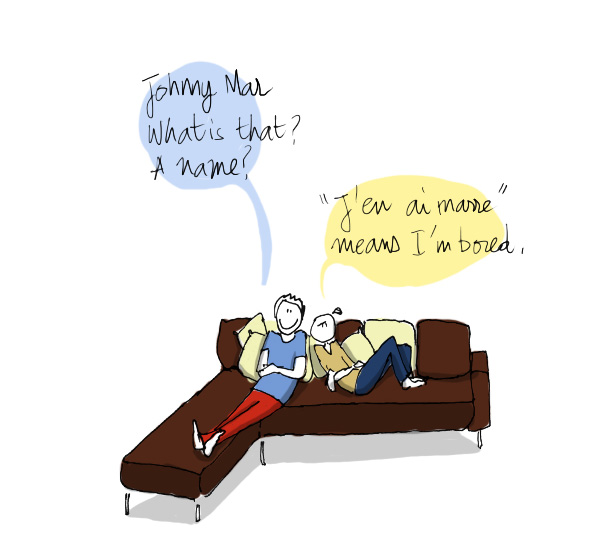 TH : Johnny Mar ? C'est quoi ? Un nom ?
La Ptite Lu : « J'en ai marre », ça veut dire « I'm bored ».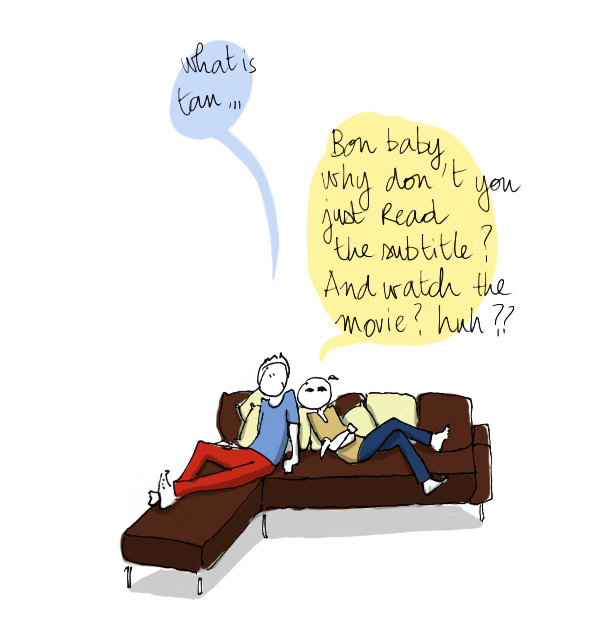 TH : C'est quoi…
La Ptie Lu : Bon bébé, tu veux pas lire les sous titres plutôt ? Et regarder le film ?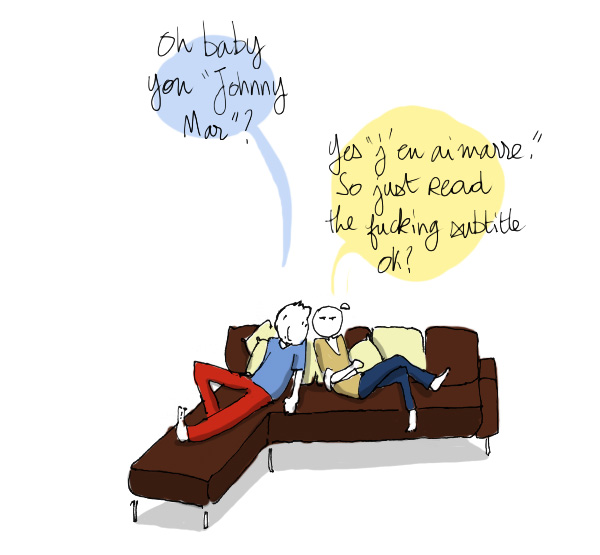 TH : Oh bébé… Tu » Johnny Mar »?
La Ptite Lu : Oui « j'en ai marre ». Alors lis les putains de sous titres ok ?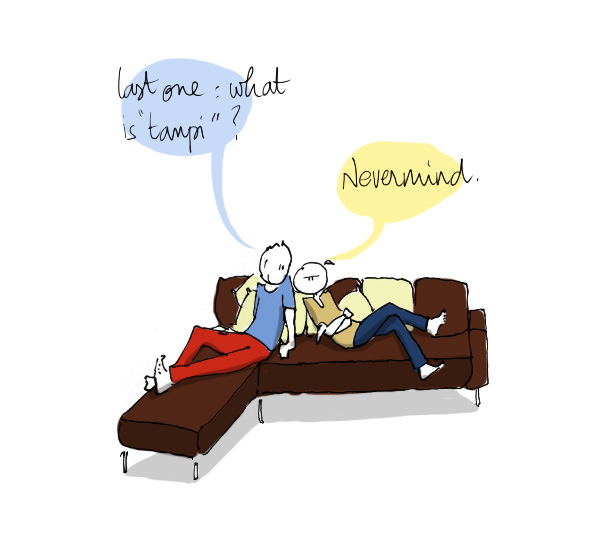 TH : Un dernier, ça veut dire quoi « tanpi »?
La Ptite Lu : Nevermind.
NDLPL (Note de La Ptite Lu) : Nevermind peut aussi être traduit par « peu importe » ou « laisse tomber ».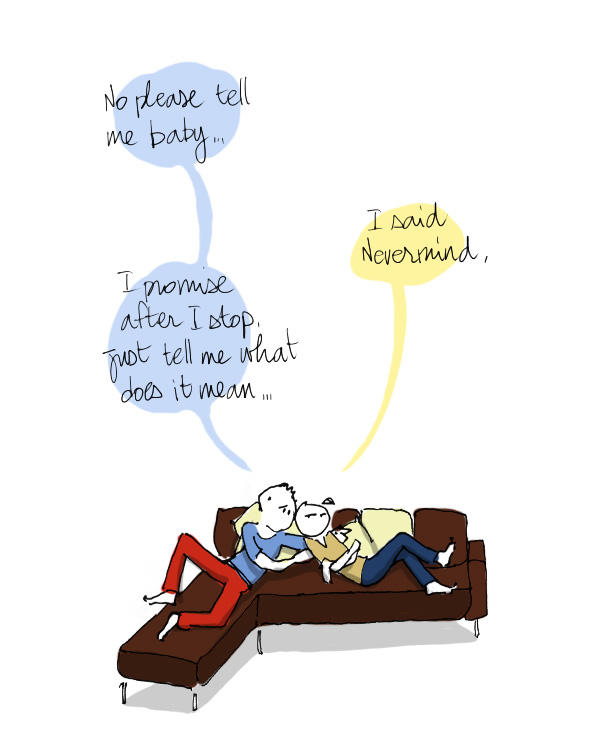 TH : Non allez dis moi…
La Ptite Lu : J'ai dit « Nevermind ».
TH : Promis, après j'arrête. Dis moi ce que ça veut dire.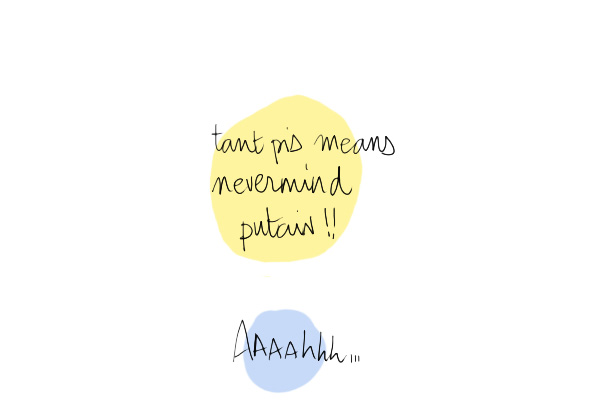 La Ptite Lu : Tant pis ça veut dire Nevermind putain !
TH : Aaaaahhhh
Vous avez vu comme je suis sympa, je vous ai même fait une petite traduction anglais / français. Je me suis dis que ça pourrait être utile cette fois. On a quand même du « frenglish » (mix french et english) effrayant… Quand on parle tous les 2, c'est n'importe quoi. On mélange tout. Bravo la grammaire !
Et sinon un petit rappel, vous pouvez vous inscrire à la newsletter de la Ptite Lu c'est tout en haut dans la colonne de droite, dans la partie Abonne-toi. Remplissez  la case avec votre adresse mail et vous recevrez les nouvelles petites Lu en premier, et ça c'est quand même la classe. Et puis ça me fait surtout hyper plaisir quand j'ai un abonné en plus hihi !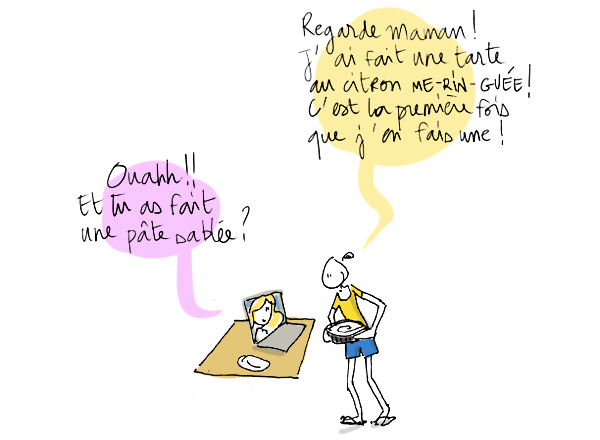 Ptite Lu: Look mum! I cooked a lemon pie! It is the first time!
Ptite Lu's mum: Wow, and you cooked a Sugar crust pastry?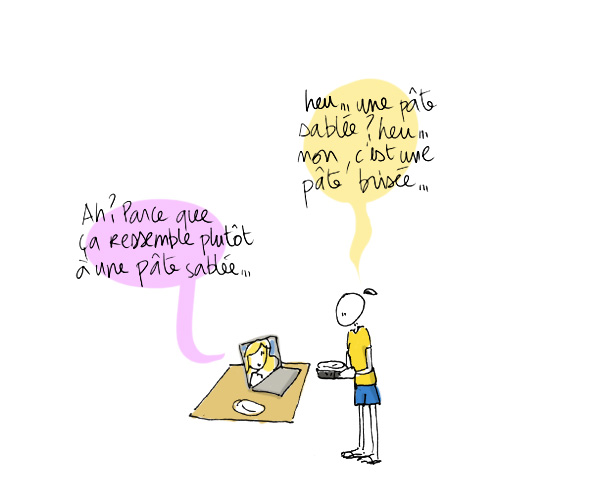 Ptite Lu: A sugar crust pastry? Hmm… No it is a short pastry
Ptite Lu's mum: Oh really? It really looks like sugar crust pastry…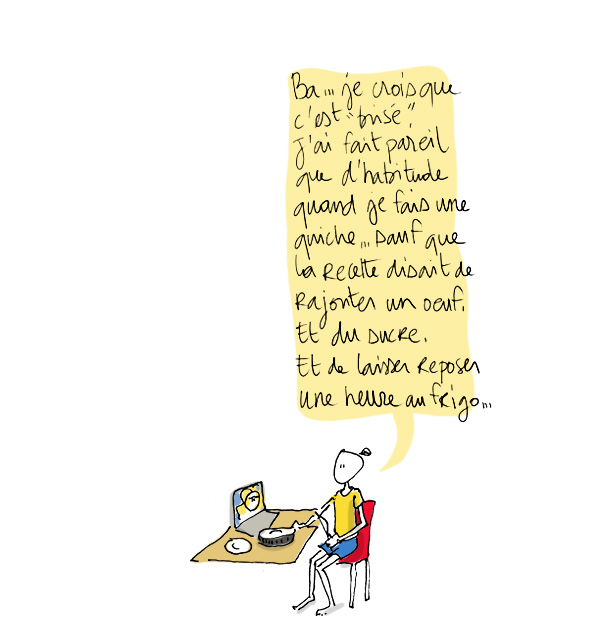 Ptite Lu: I think it is a short pastry… I did like I usually did when I cook tart.
Except that the recipe said add an egg, some sugar and put in a fridge for one hour…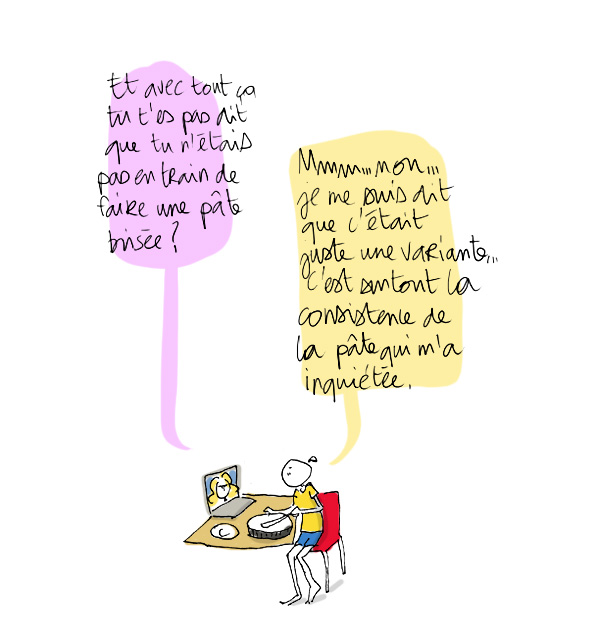 Ptite Lu's mum: And with all these differences, you never thought that you were not cooking a short pastry?
Ptite Lu: Hmm… No. I was thinking this recipe is just different. But the consistency made me worried.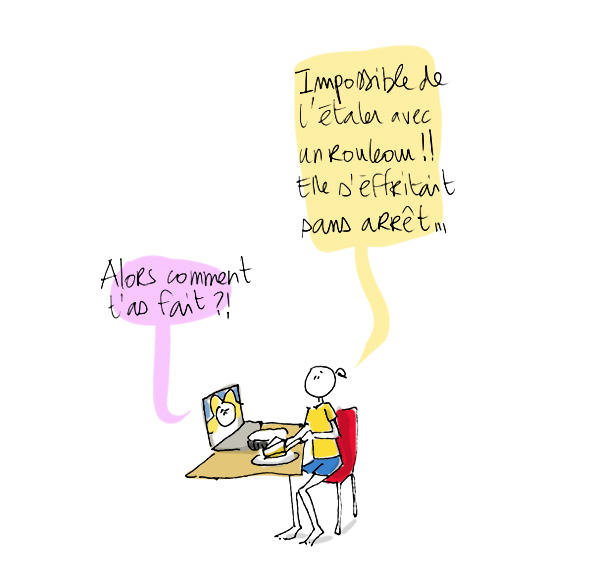 Ptite Lu: Impossible  to spread the pastry with the roller! It kept going to crumble off…
Ptite Lu's mum: So what did you do?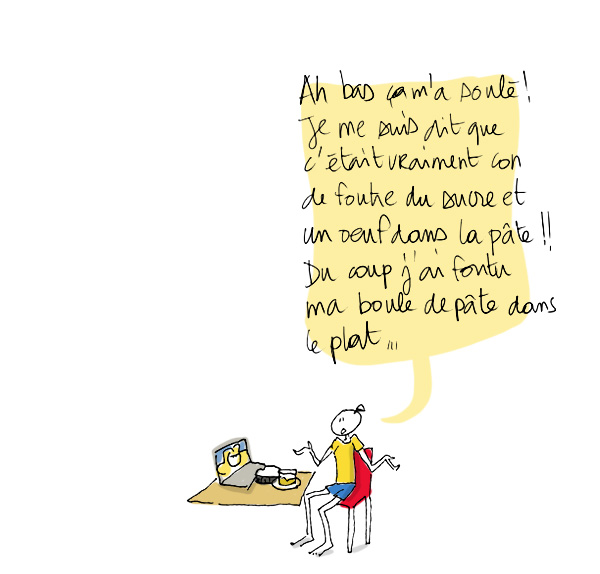 Ptite Lu: I was pissed off! I was thinking that was very silly to put egg
and sugar in pastry! So I put it in the dish…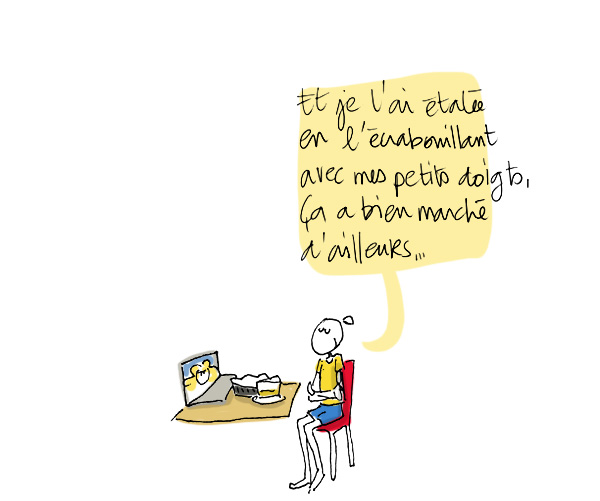 Ptite Lu: And I spread it by myself with my little fingers. And it worked quite well actually…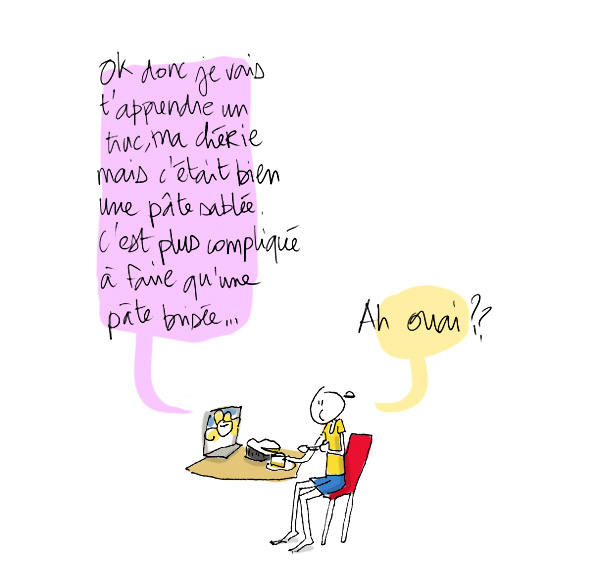 Ptite Lu's mum: Okay, so I am going to explain you something sweetie, It was actually a sugar crust pastry that you have made… It is quite more difficult to cook than a simple short pastry…
Ptite Lu: Really?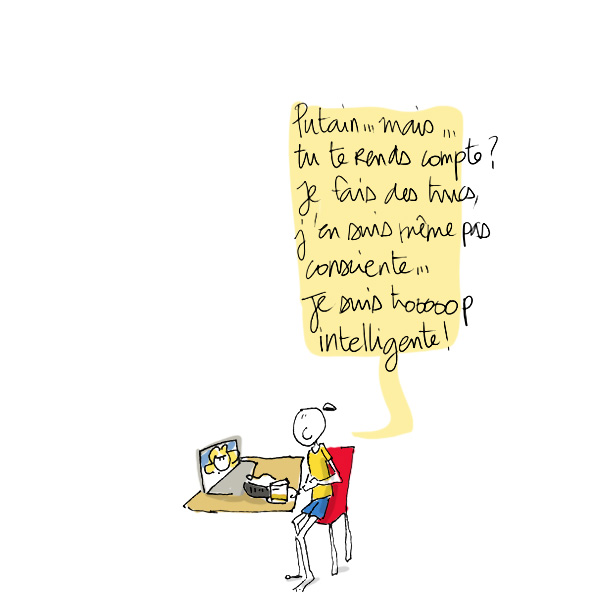 Ptite Lu: Fuck, do you realize that? I do stuff that I dont even know I am doing…
I am fucking smart!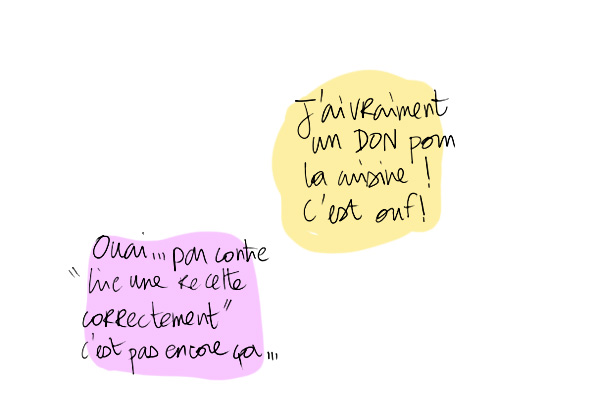 Ptite Lu: I definitely have a GIFT for cooking! It is incredible!
Ptite Lu's mum: sure… But you are not so good in reading a recipe properly ….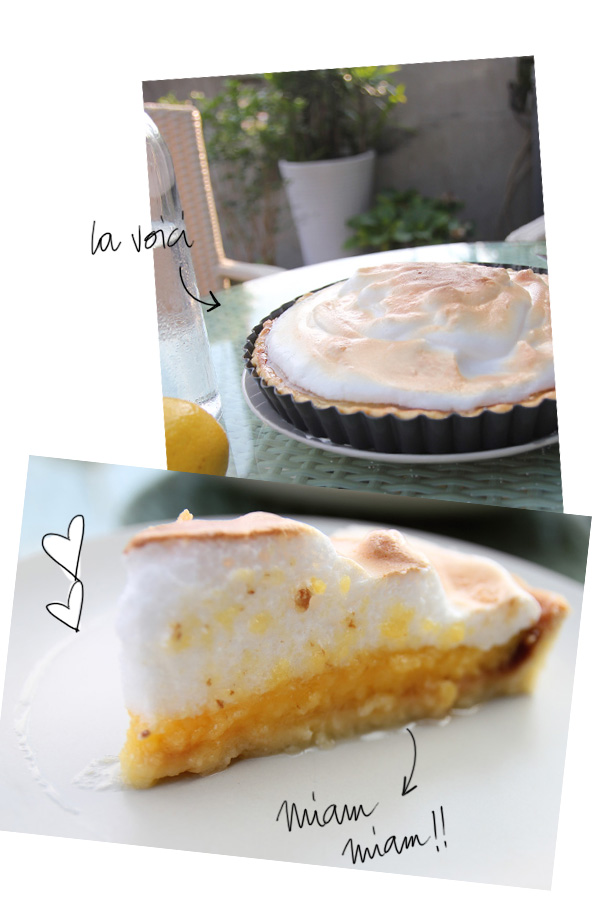 Et en plus elle était délicieuse ! Si vous voulez la recette, je l'ai prise sur ce site. C'est bien dit pâte sablée mais je lis rarement correctement une recette. Ça donne des surprises… bonnes ou mauvaises :)
And it was delicious! If you want the receipe, I got it from this website.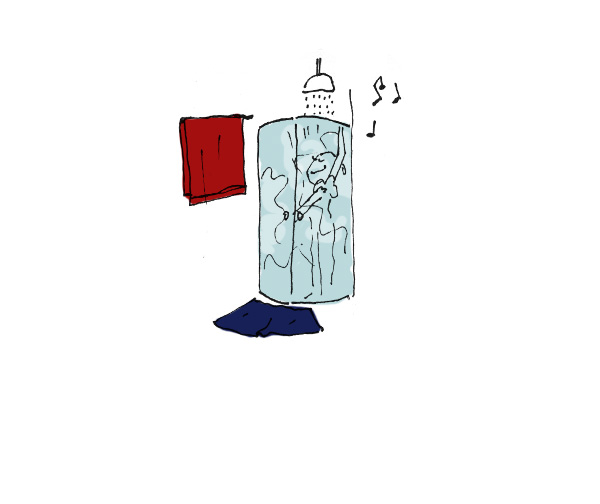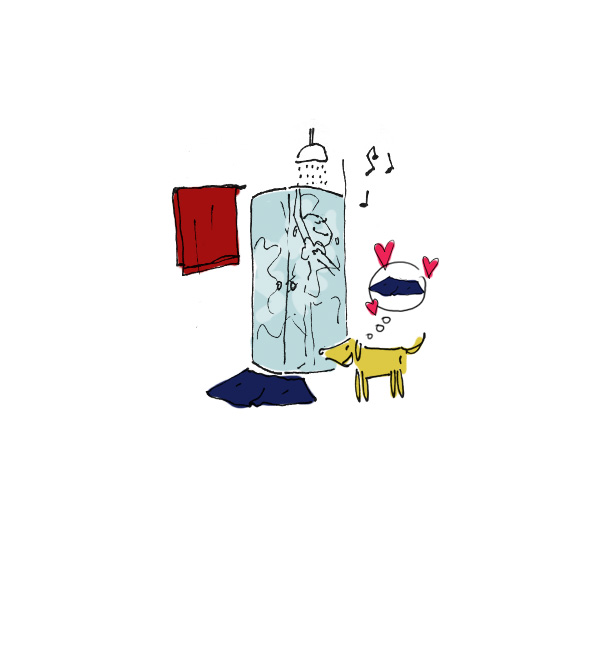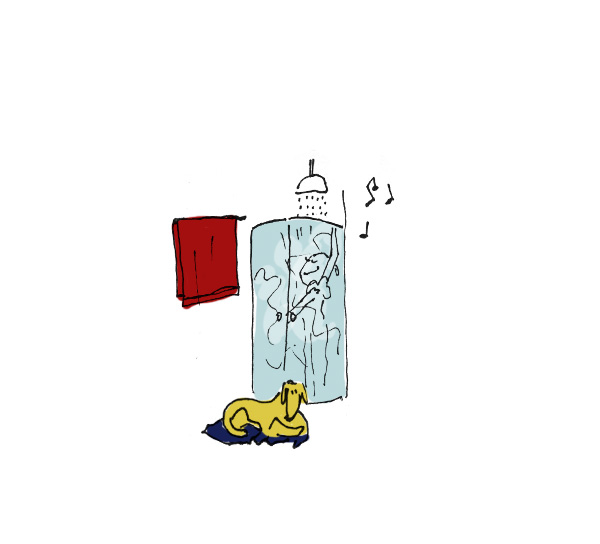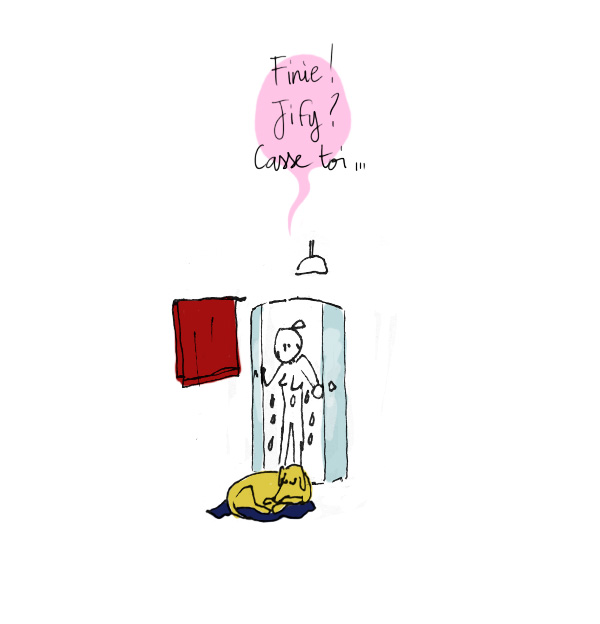 Done! Jify? Go away!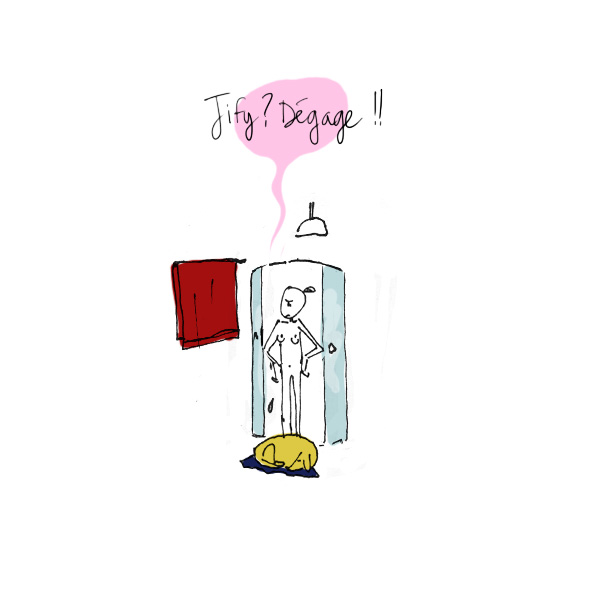 Jify!Fuck off!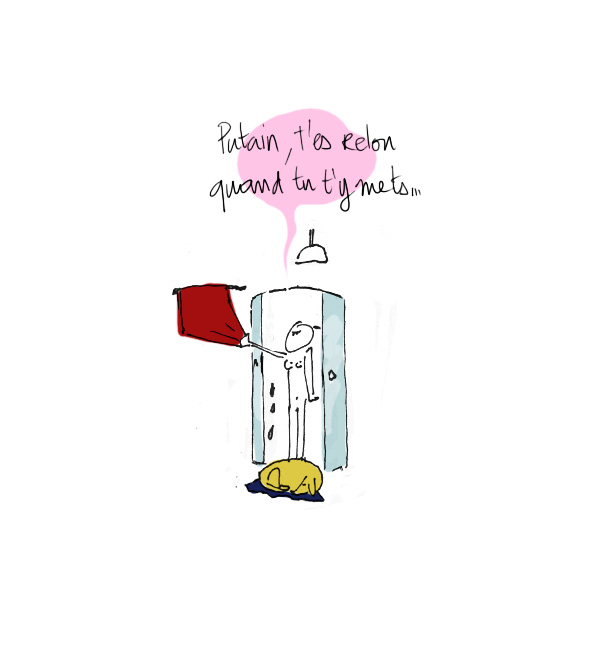 This dog can really be fucking boring!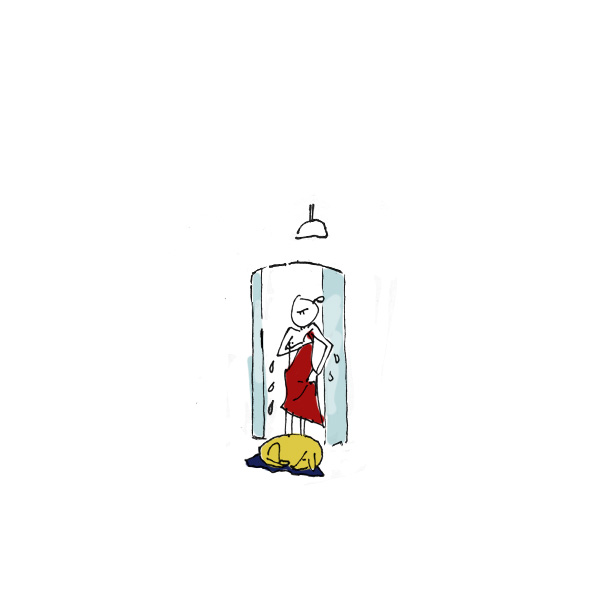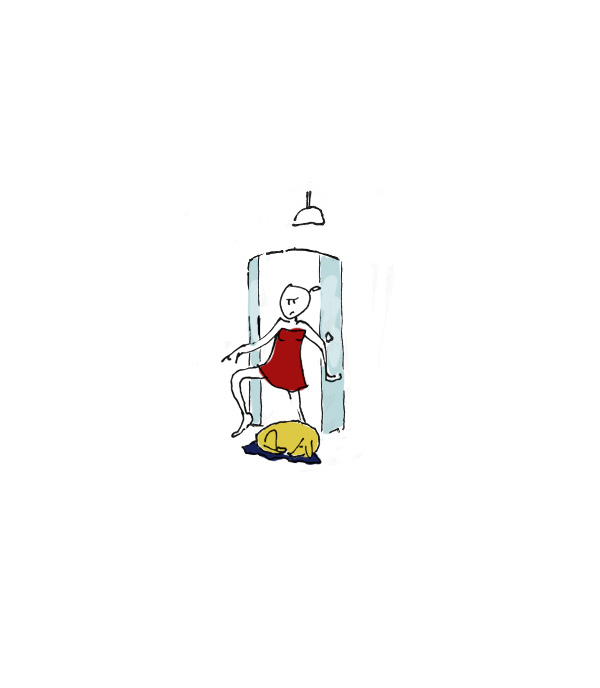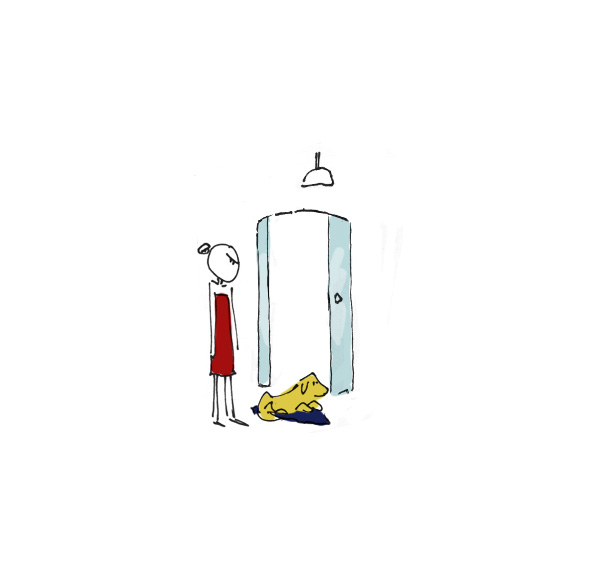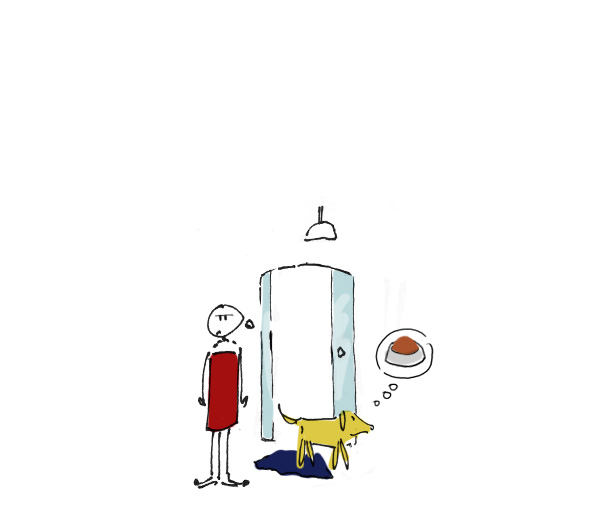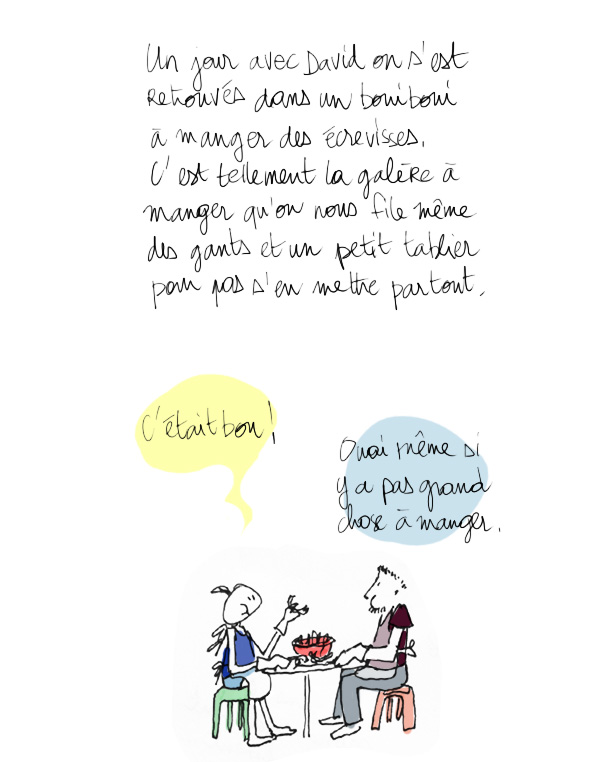 One day, I met with David and went to a small restaurant to eat crayfish.
It is so hard to eat, that they give you some glove and apron to avoid the stain.
Ptite Lu: It was good!
David: Yeah even if there is not so much to eat.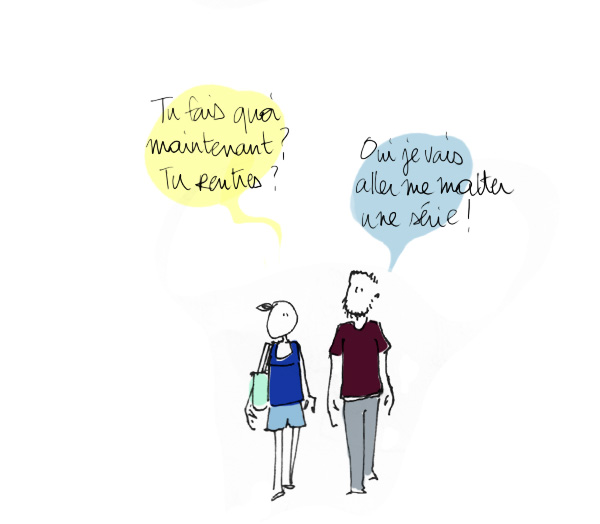 Ptite Lu: What do you do now? Go home?
David: Yes, I will go watch serie!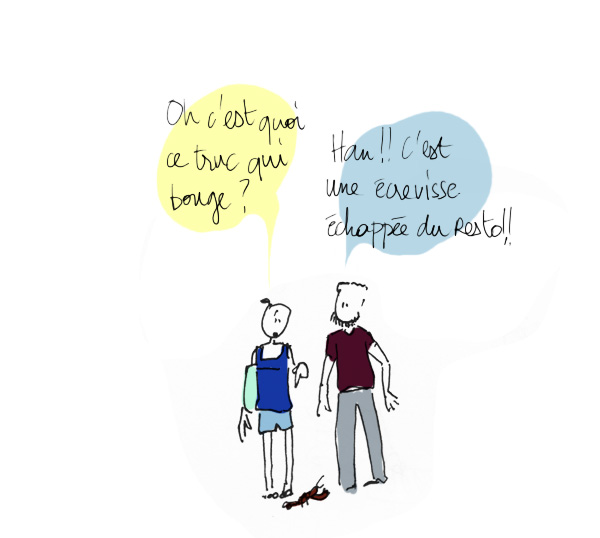 Ptite Lu: What is that thing moving?
David: Huh! It is a crayfish escaped from the restaurant!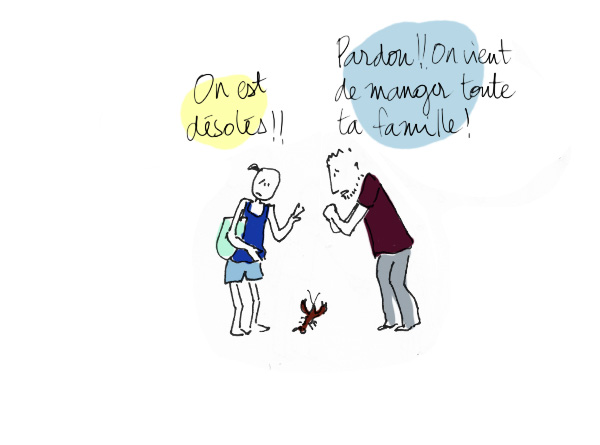 Ptite Lu: We are sorry!
David: Sorry, we just ate your whole family!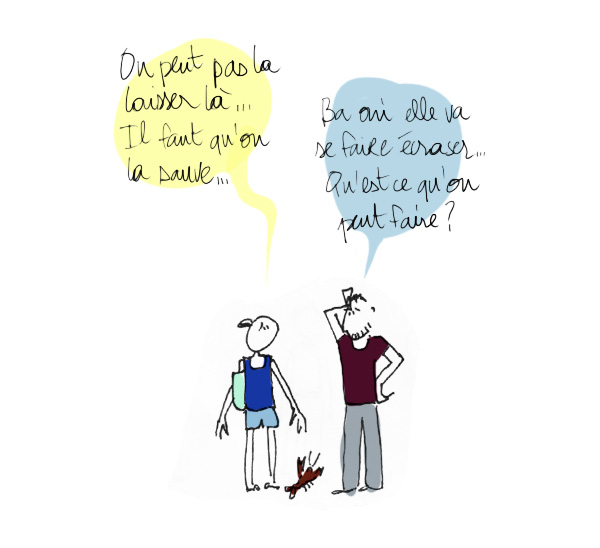 Ptite Lu: We can not let her like that! We must save her! (Crayfish in french is a She, yes.)
David: Yes… Otherwise she will die here. What can we do?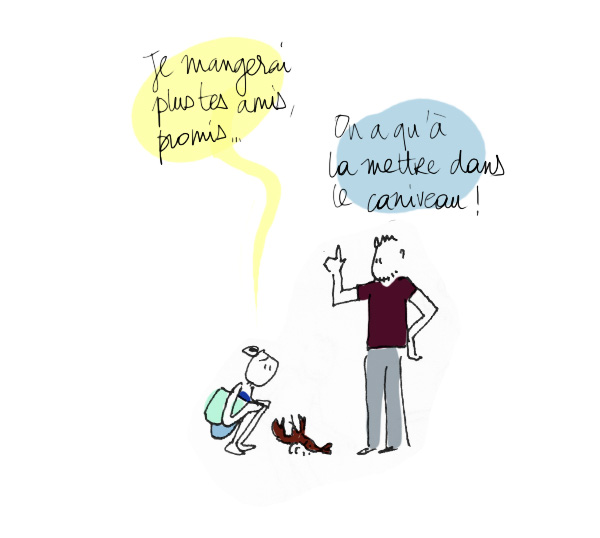 Ptite Lu: I will never eat your friends again, I promise.
David: Let's put her in the drain!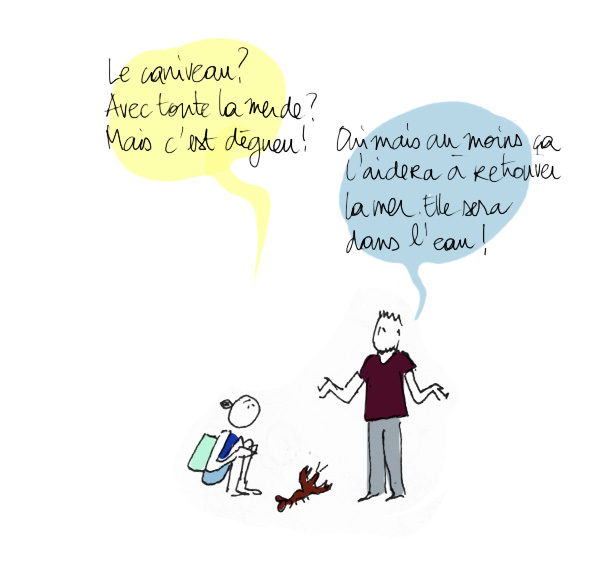 Ptite Lu: In the drain? With all the shit? But it is disgusting!
David: But at least, it will help her to find the sea. She will be in the watter.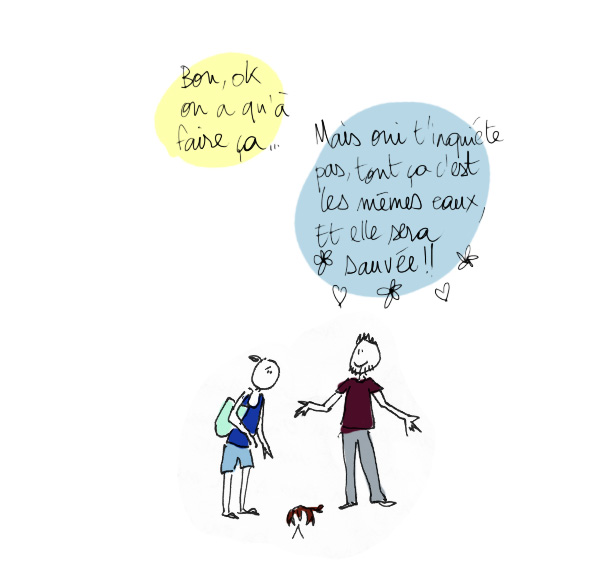 Ptite Lu: Ok… Let's do that then…
David: Don't worry, She will find the sea and will be saved!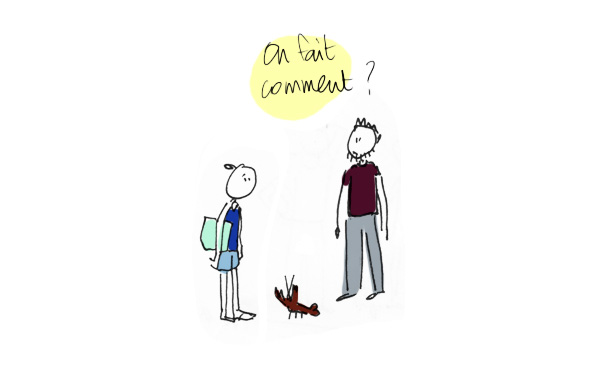 Ptite Lu: How do we do?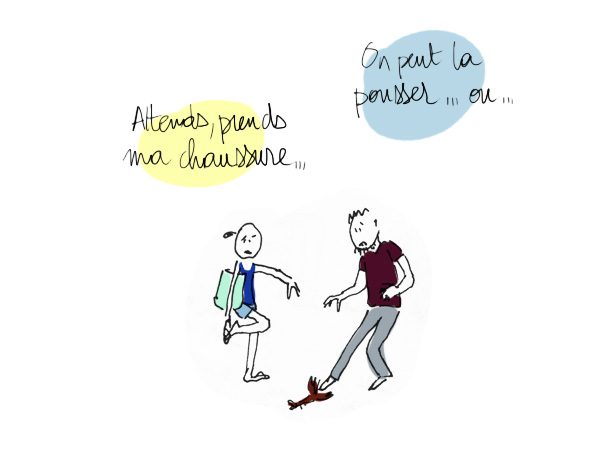 Ptite Lu: Take my shoe…
David: Maybe we can push her…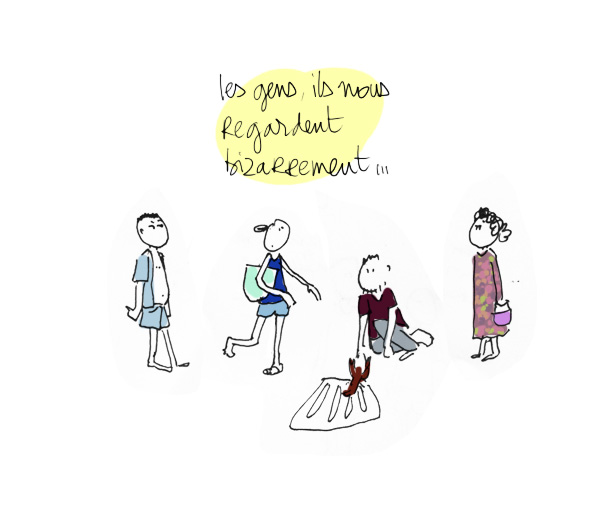 Ptite Lu: People look at us like we are crazy…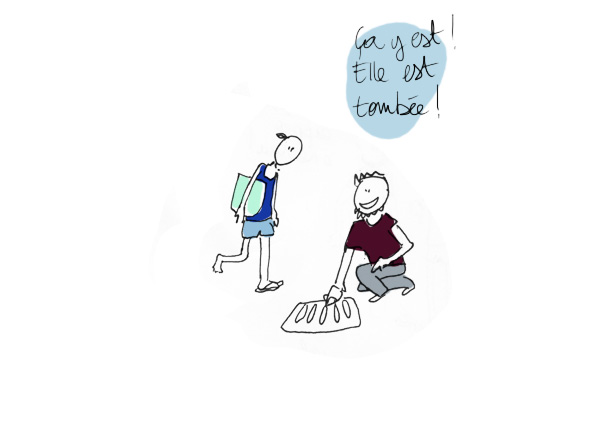 David: Done!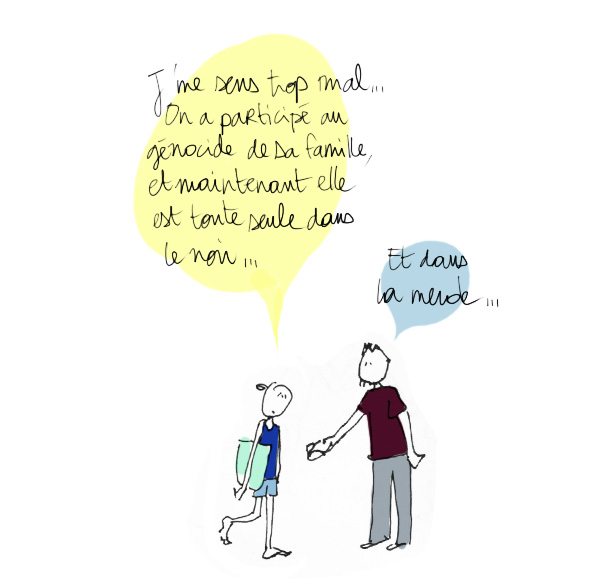 Ptite Lu: I feel so bad. We killed her whole family and now she is alone in the dark…
David: And the shit…